Not everything needs to be practical. Sometimes, things can be about expression, fun, curiosity, unparalleled experience, or even the unquantifiable need to break limits. Within that perspective, the RM 50-01 carries a similar relationship to the general idea of a watch, as a Formula One car does to the idea of the automobile.
Collaborative partnerships between luxury watchmakers and the supercar elite aren't exactly hard to come by in this day and age. We've seen numerous collaborations between these two sectors but there is only one brand that will always stand out. Richard Mille.
The Richard Mille RM 50-01 G-Sensor Tourbillon Chronograph takes the Lotus team logo and livery adoption to the next level with the inclusion of a phenomenal G-force sensor at 12:00.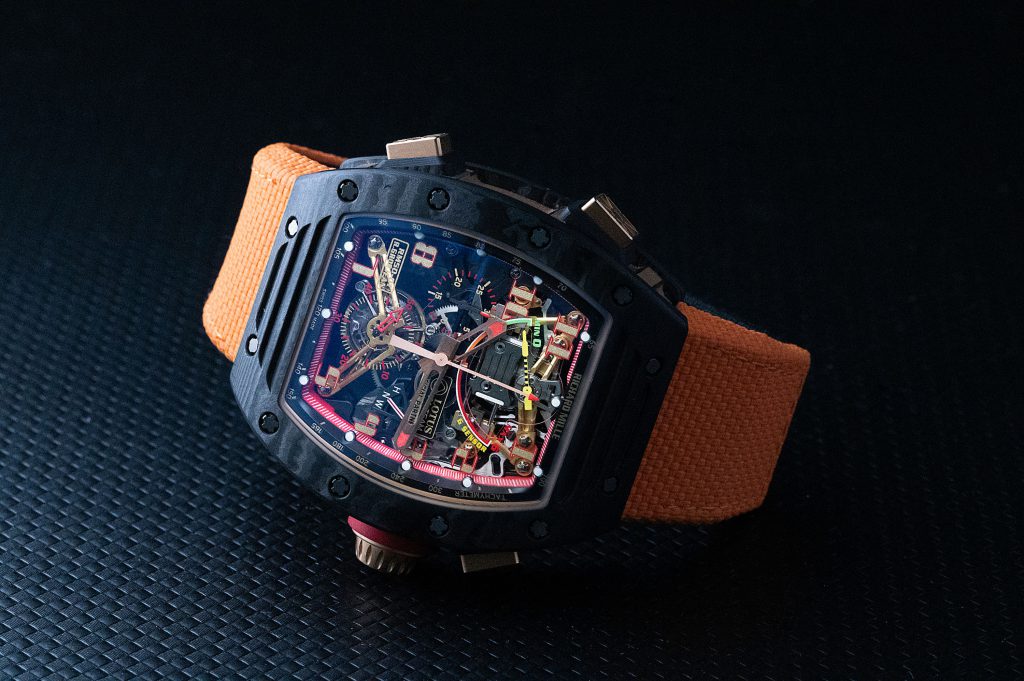 RM50-01 – Birth of yet another racing icon by Richard Mille
This exceptionally sporting timepiece is in perfect harmony with the world of F1 racing, starting with its mechanical heart, a manual winding tourbillon chronograph calibre with a mechanical G-force sensor. The architectural layout of the modern movement design details a coherent and rational chronograph mechanism that avoids any unnecessary energy and motion wastage, through the application of technical solutions to optimize its operation.
This is accomplished through the extensive use of materials such as titanium for the movement and the perfected synchronization of different interacting parts.
On par with the best racing machines, the RM50-01 movement is assembled on a rigid baseplate of Grade 5 titanium, offering exceptional stability and improving the functioning of the movement.
The RM 50-01 has a case created from Richard Mille's iconic carbon NTPT. Carbon TPT, which Richard Mille first introduced to the watch industry in 2013, is comprised of 600 layers of parallel carbon filaments, each of them no more than 30 microns in thickness, that are fused with a super-charged resin. This composite material is then heated to 120º Celsius to solidify it.
G-force beyond Human Tolerance
The G-force sensor is a particular novelty aimed at F1 drivers. This is specifically handy to professional F1 drivers who are routinely subjected to powerful G forces whilst racing on the course. When an F1 automobile goes from a near-standstill in a sharp corner to its top speed of just under 200mph in under 3 seconds, the driver's body could experience up to about 5 Gs – a force rendering appendages like head and arms to carry that of five times their actual weight.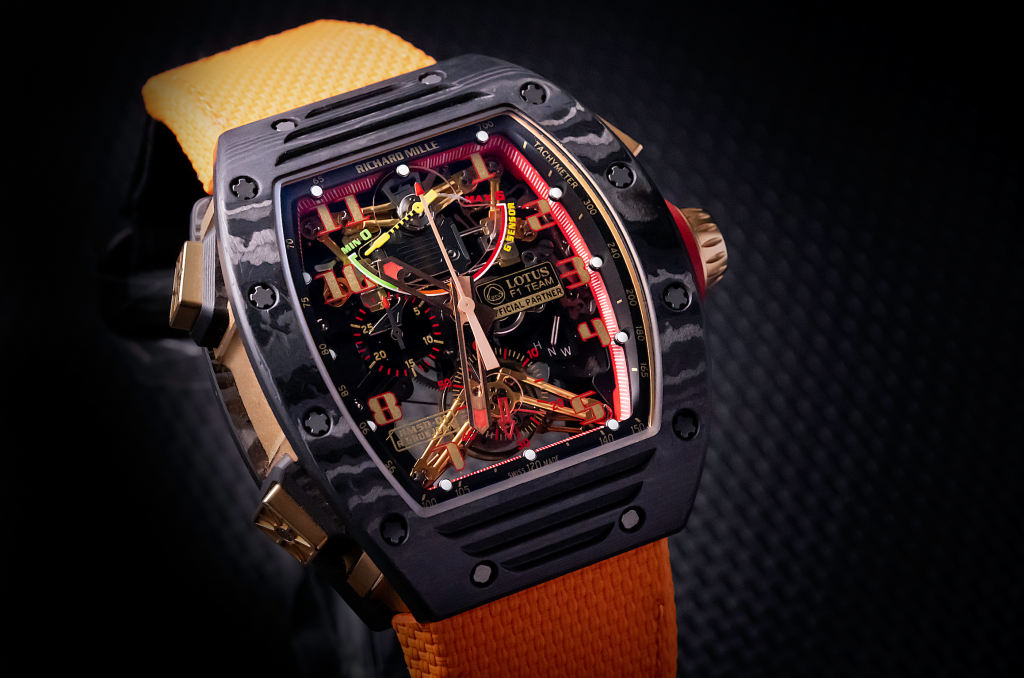 So not only does it take a special type of vehicle to create these incredible forces, and a special type of driver to harness them, it also takes a very special watch to endure and simultaneously measure them. And Richard Mille always outperforms and creates the most unexpected timepiece.
Checking time or even looking at a wristwatch at 150mph is absolutely unnecessary. But Richard Mille is not about that. It is about making a statement in the watch industry. It is the affiliation owners want to have when strapping on a Richard Mille on their wrist.
This is not the first time we've seen Richard Mille showcasing the G sensor. The Rm 36-01 launched in 2014 for rally car driver Sebastian shook the industry with the novel idea of having the G sensor in a wristwatch. However, with this RM50-01 Richard Mille doubled down its effort to create a phenomenal timepiece in its iconic shape. They have added not just a manually wound column-wheel chronograph, but a tourbillon as well. It all comes in a surprisingly compact design given its 500-plus components.
Unsurprisingly, it also yields a dial that has a lot going on which is par for the course with any Richard Mille watch. However, a closer inspection reveals a breakdown of the usual suspects: a running seconds counter at 6:00, a 30-minute chronograph counter at 9:00, a "gearbox" indicator at 4:00 showing the crown position (W = Winding, N = Neutral, H = Hand-setting), and the yellow G-sensor at 12:00, which swings from zero to a weighty 6 Gs and can be reset from the pusher just above the crown at 2:00. For obvious reasons, we'll just be taking Richard Mille at his word that the sensor works as intended, should the need ever arise.
Masterly Engineered, The RM50-01 is built for action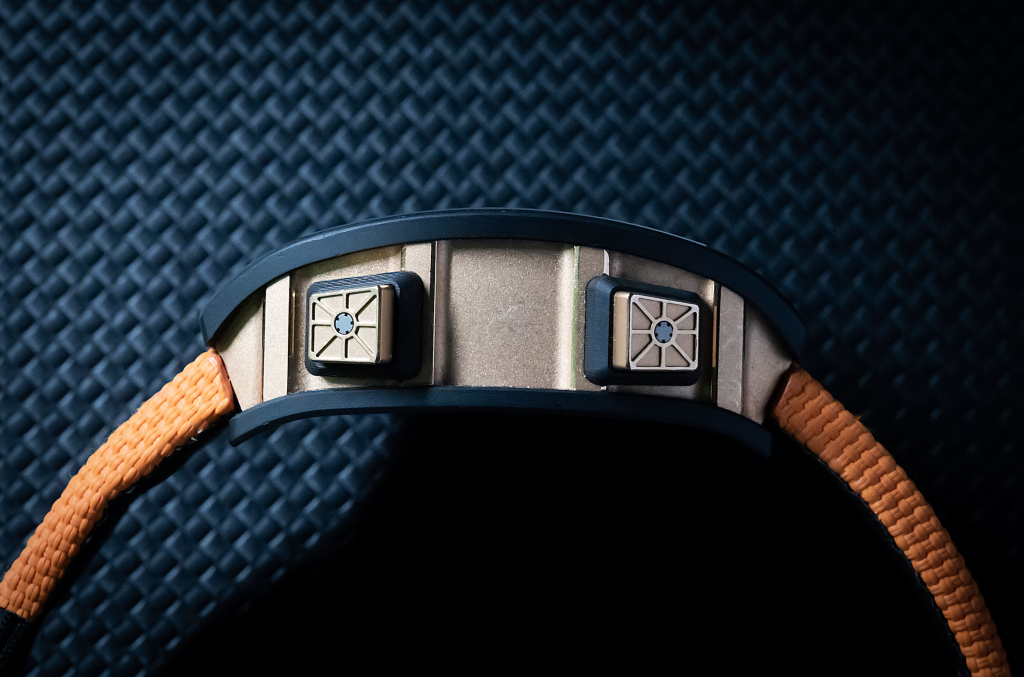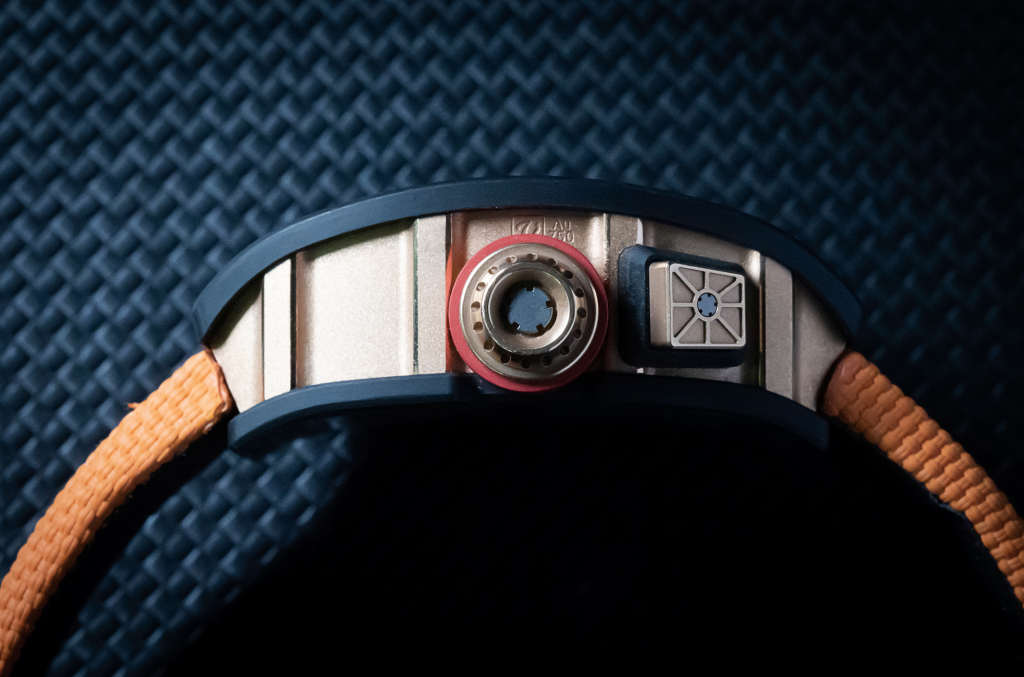 Despite the addition of the G-sensor, tourbillon, and chronograph complications, the watch's signature tonneau-shaped case still wears comfortably, measuring a reasonable 42.7mm wide and 16.4mm thick, with a lug-to-lug measurement of 50mm. These are familiar measurements in the RM family tree which we've routinely found to wear comfortably due to the watch's impressive lightness. Owning to its NTPT carbon construction and titanium movement, the feathery signature of most Richard Mille sports models is born.
However, the engine of the Richard Mille RM 50-01 G-Sensor Tourbillon Chronograph is where its engineer capability truly shines. This is both figuratively and quite literally as the stainless steel tourbillon and g-sensor bridges are galvanized a gold colour that deeply contrasts the gunmetal-coloured grade 5 titanium baseplate and bridges, and matches the Lotus F1 team's iconic black and gold livery.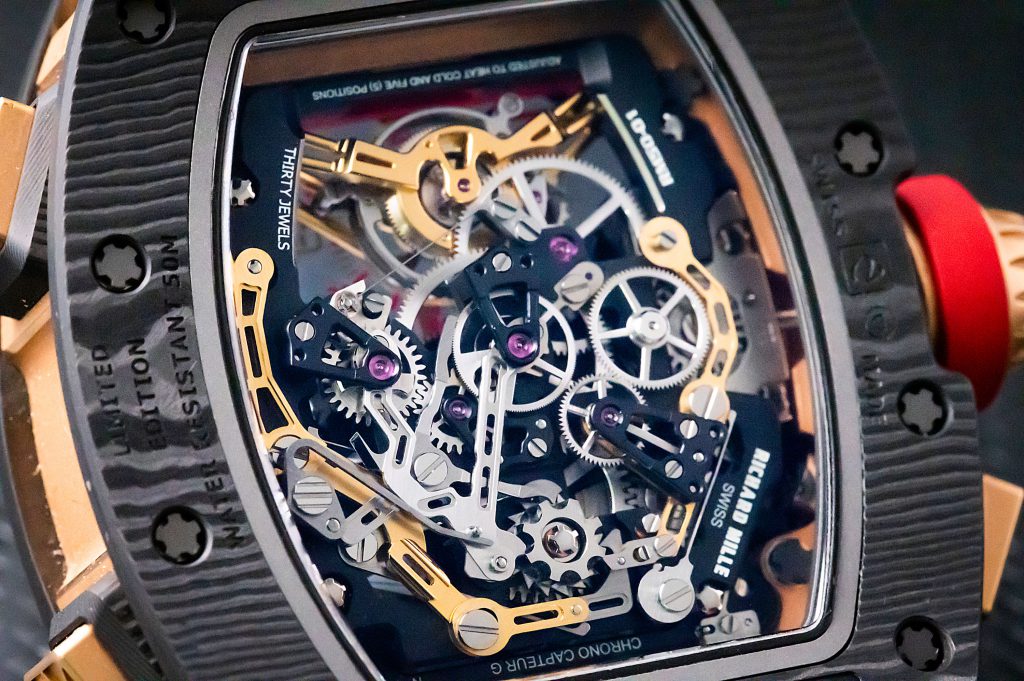 The use of grade 5 titanium and Carbon TPT for the baseplate, bridges and the extreme skeletonization of these and other components brings down the weight of the watch drastically than what you would expect. Titanium is so lightweight and durable that it is used extensively in McLaren Racing's Formula 1 engineering build program, to lighten and reinforce chassis and aerodynamic elements and as a material in gearboxes, connecting rods, and valve systems. The movement's combination of drawn, polished, satin-finished and soft-polished surfaces are all executed by hand. The dial is also made of titanium, requiring three hours of polishing.
The true key highlight, in my opinion, is how Richard Mille marries the complications of Haute Horlogerie to a real-world use-case that is both practical and useless, yielding a beautifully-rendered movement that's unaffected by the shock and force routinely sustained by professional F1 drivers. The G force resistance is still significant enough to suggest the watch can withstand whatever condition threw at it.
Final Thoughts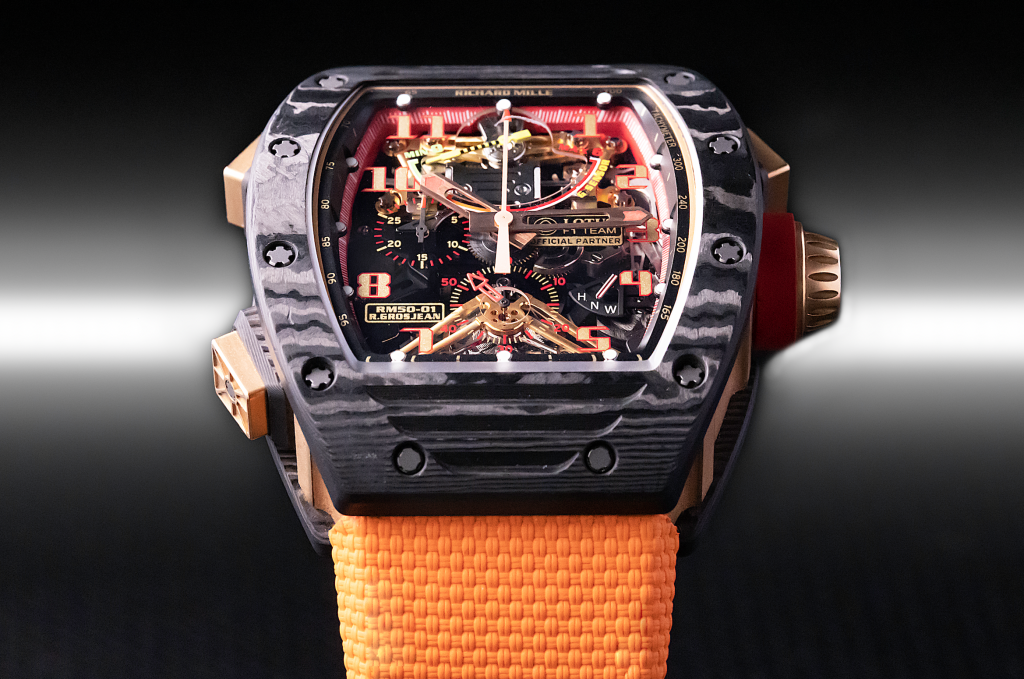 The RM50-01 is a highly complicated and technical looking timepiece, that doesn't tick everyone's boxes, but it is definitely an impressive watch whether you are into these types of things or not.
It has this uber sci-fi technical design, where those fans of futuristic designs or Formula 1 will probably love for. On the dial you'll find a torque indicator, using the red, yellow and green coloured indicators. Below the Lotus branding, you will see the function indicator. We've seen this before, also on watches from other brands, and it indicates whether you are able to set the watch, wind the watch or whether it is in a 'neutral' position. The small second's hand at 6 o'clock is part of the lightweight tourbillon.
This specific model we have here is the rarer version of the two versions of the RM50-01 ever produced. There are only 10 RM50-01 with rose gold on the case side, while 20 has full NTPT case. With this rose gold RM50-01, it's a rare and luxurious combination of high performance and elegance.
Based on historical price data from auction houses and transacted sales history in the secondary market, the projected growth per annum for the Richard Mille RM50-01 is estimated to be around 15%. With ultra-exclusive supply and high demand within the watch community, Richard Mille watches are poised to skyrocket as time goes by with its status as the most valuable luxury watch company.