Master of Modern Horology – The eponymous brand embodied Richard Mille's vision of 21st-century watchmaking: An avant-garde luxury timepiece that symbolized a disruption with the past.
Brief History of Richard Mille
Born in 1951 in Draguignan, France, Richard Mille studied marketing and entered the world of watchmaking almost by accident. Richard Mille was an export manager with Finhor, a French watchmaking company before his promotion to the position of Director of numerous watchmaking brands when the Matra Group acquired Finhor.
In 1990, he became CEO of Mauboussin's watchmaking division as well as taking on the position of Head of Jewellery. Deeply involved in the design process, his eye for design combined with his love for mechanics gave birth to the idea of the Richard Mille watches we know today.
"I wanted to make the watch of my dreams that I could never find anywhere" – Richard Mille
Founded on technical innovation, artistry and culture of fine watchmaking, Richard Mille became a dominant player in the modern watch industry, regarded by many as the ultimate expression of wealth.
BROWSE OUR COLLECTION OF RICHARD MILLE ON WATCHLINK.SG
From the beginning, Richard Mille's plan is to create the Formula One of horology, with total negligence of production cost and focus on the use of modern production techniques and high-tech materials for maximum performance. Extremely avant-garde and technically powerful, Richard Mille metamorphoses advanced technology and futuristic materials into the purity of design and extraordinary creativity while incorporating traditional watchmaking.
Richard Mille marked a rupture in watchmaking history that revolutionized the world of luxury watches, replicating the model of how automobile engineers build a Formula One car, taking the design, material usage, components and functions into account with immaculate execution.
In 2001, the watch industry witnessed the first-ever Richard Mille RM 001 at Baselworld, with the support of renowned Swiss movement manufacturers including Audemars Piguet Renaud et Papi. Limited to only 17 units, RM 001 firmly established itself as one of the most iconic and exclusive timepieces in the world. With a retail price of US$135,000, it is at least twice the amount of any other tourbillon during that period.
In 2007, Richard Mille became a member of the Foundation de la Haute Horlogerie before winning the most coveted accolade in the world of horology, Aiuguille d'Or award.
Richard Mille himself is a role model of the lifestyle that his eponymous brand is influenced by, often seen in sports car and boat races, travelling around the world in private jets, and hangs out with A-listers.
Till date, Richard Mille has collaborated with many athletes and celebrities by involving them in the design process, creating remarkable timepieces that are able to operate under extreme conditions and crucial stress tests. While tourbillon escapement in traditional watchmaking is known to be fragile, Richard Mille managed to prove that theory wrong with his RM036 "G-Sensor Tourbillon" that could withstand the types of forces that would destroy most tourbillon-based movements. Richard Mille watches are known to be able to resist shocks of up to 5000G, and durable enough to be worn for extreme sports such as tennis, golf, track & field and skiing. Richard Mille redefined the traditional perception of high-end watch collecting and encouraged his elite clients to wear Richard Mille watches for all occasions, instead of letting it sit in a safe.
BROWSE OUR COLLECTION OF RICHARD MILLE ON WATCHLINK.SG
Facts about Richard Mille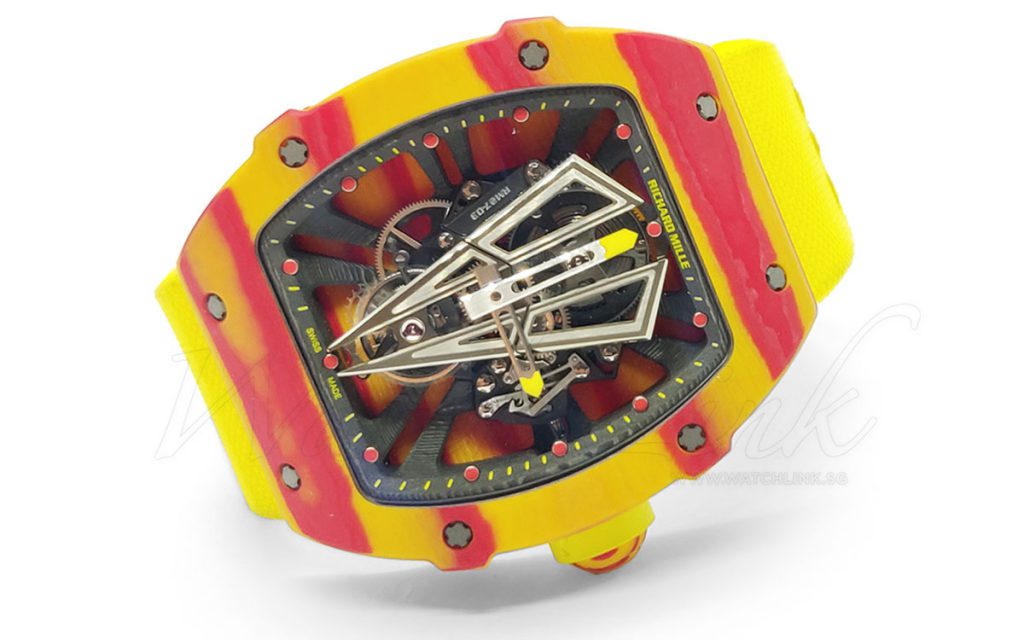 The size and shape of any Richard Mille watches are instantly recognisable, even from afar. The iconic sandwich-style tonneau-shaped case of Richard Mille usually comprises three decks and it is one of the most expensive and difficult watch cases to manufacture. The three curved decks have to be machined together with extreme precision in order to prevent moisture or dust entering.
Richard Mille is no stranger to using high tech materials used normally for Formula 1 cars and aerospace in their watches. Richard Mille invested millions of dollars into Research and Development for materials such as carbon nanotubes, toughened ceramic, NTPT® carbon, silicon nitride as well as gold fused with carbon and quartz. Another famous Richard Mille case material is the full sapphire crystal watch case that requires an absolutely crazy 1500 hours of sapphire machining for a single watch.
To create the 21st-century horology innovation, Richard Mille redeveloped new watch movements that are different from the traditional Geneva counterparts. Richard Mille movement parts are usually a hybrid of titanium with other materials that Richard Mille's dedicated team of watchmakers and micro engineers spend years perfecting and innovating.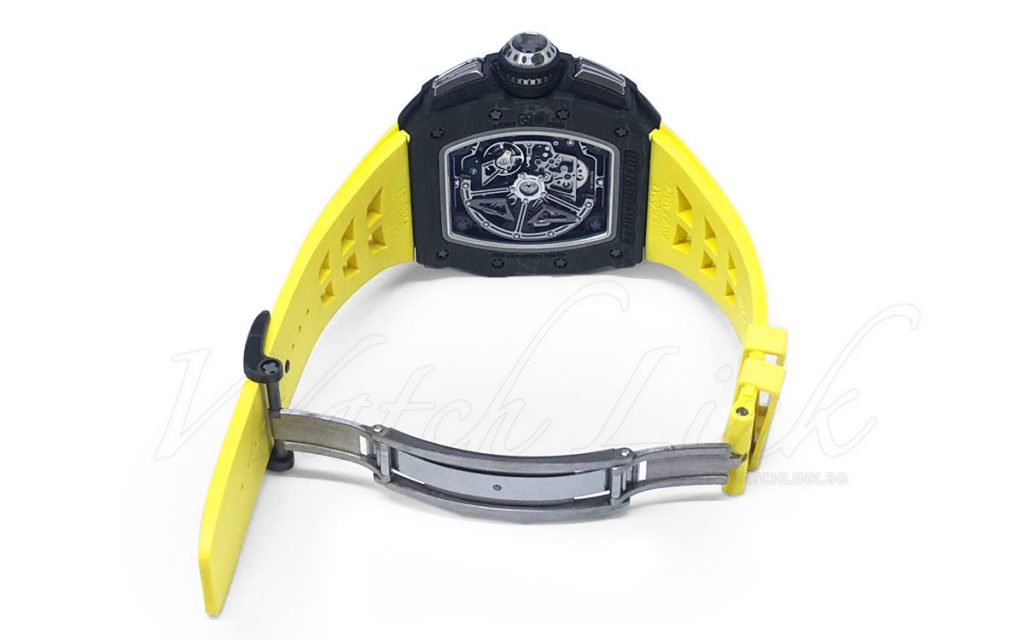 Richard Mille makes less than 5,000 watches annually. Due to the low supply in the current market, demand for Richard Mille watches consistently outstrips production. The exclusivity and high demand for Richard Mille watches caused a premium in the secondary market and auctions.
Popular Richard Mille Models
RM 11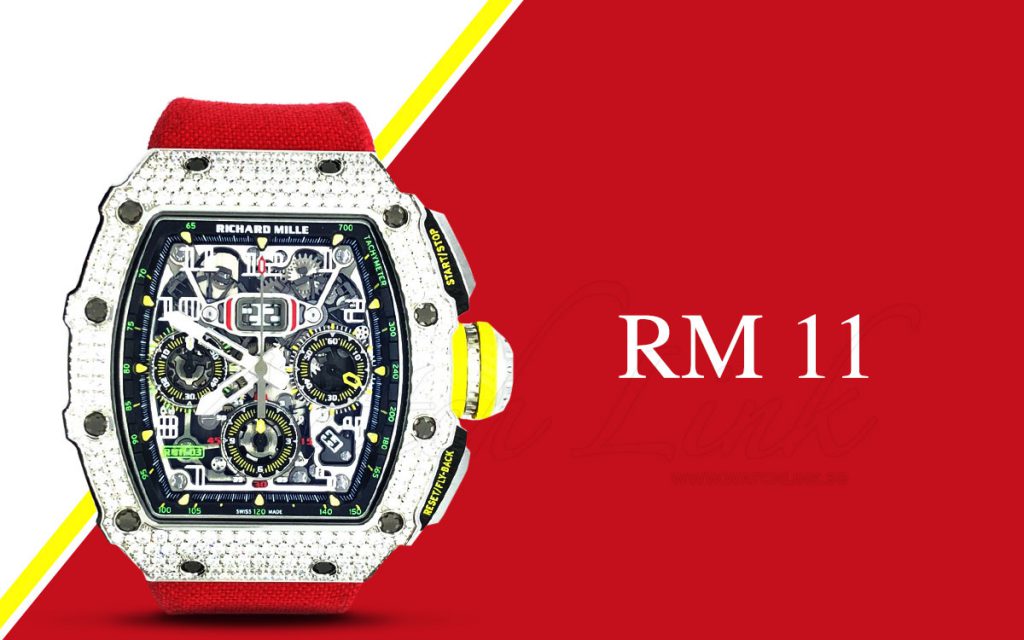 Launched in 2007, the RM 11 is the most recognizable and the most classic model in Richard Mille collection. The classic Tonneau case is a unique eye-catching design that comes from 20 spline screws in grade 5 titanium. Each case usually involves 202 separate machining operations.
Most RM11 features a flyback chronograph, a 60-minute countdown timer and an annual calendar in a relatively busy dial that follows the unmistakable look of Richard Mille watches. RM 11 comes in many different variants, including the Felipe Massa "Korea" limited edition, Mclaren edition and diamond bezel.
---
RM 61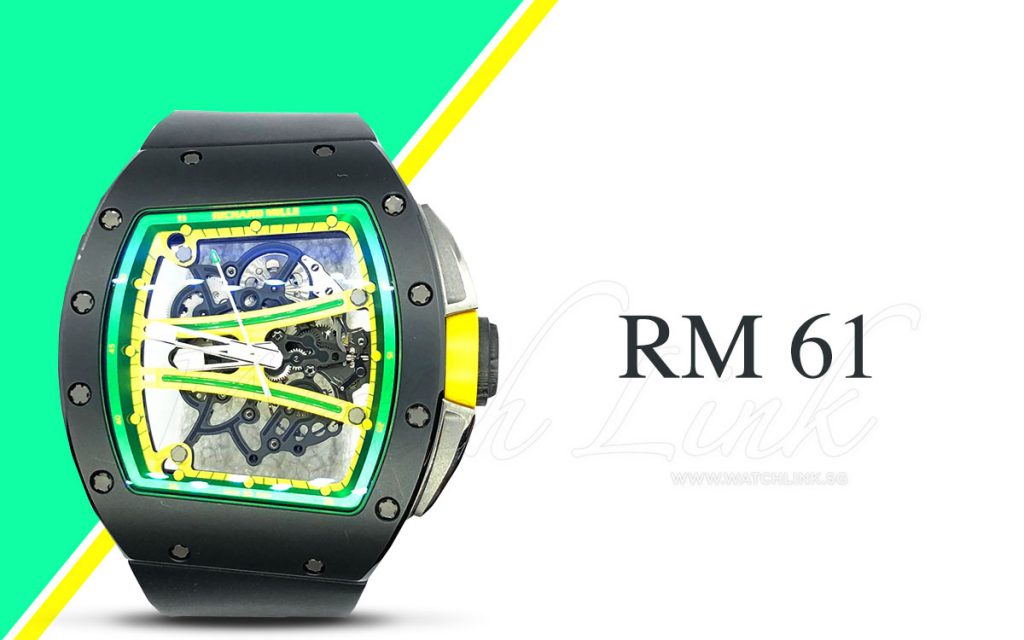 Launched in 2014, the RM 61, nicknamed "Baby Blake" is a collaborative effort with World Champion, Yohan Blake. With only limited pieces available, the Richard Mille RM 61-01 is shock tested to withstand impacts over 5,000Gs.
The 50.24mm x 42.7mm case is made from TZP black ceramic with an NTPT Carbon case band. The two 'claw marks' high-tech bridges reveal the RMUL2 movement through the skeletonized "dial".
---
RM 35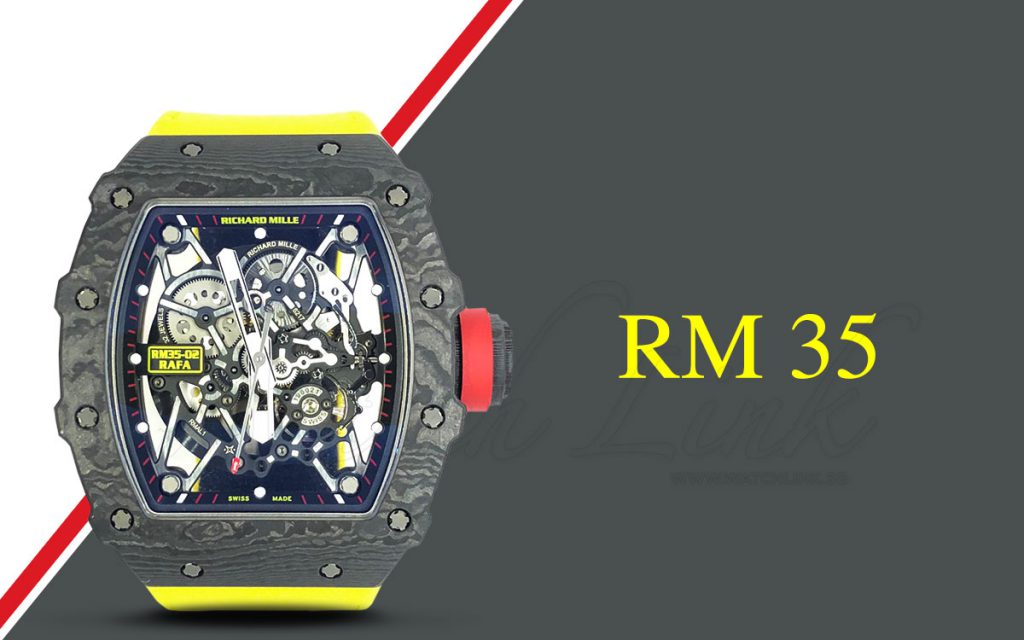 Lightness and resistance are the main principles that guided Richard Mille in the creation of watches dedicated to Rafael Nadal. Nicknamed "Baby Nadal", the RM 35-02 is the sixth watch created for Rafael Nadal in 2016 before the release of RM27-03 the year after. The RM35-02 has a case length of 49.94mm, thickness of 13.15mm and width of 44.50mm. The titanium RMAL1 movement is supported by 4 peripheral V bridges, highlighting the integrated moving elements.
Why should you own Richard Mille watches?
"You can't find a watch like Richard Mille for less money." The materials and movements used in Richard Mille watches are absolutely phenomenal, assuring its owner that they will only have the very best on their wrist. Nicknamed the 'billionaire's handshake', Richard Mille watches adorn wrists within the most exclusive social circles, conveying a message that they are among the world's wealthy elite. In fact, you will be hard-pressed to find a popular model such as the RM11 or RM55 for sale in a Richard Mille boutique on the spot even if you have the cash to burn. There is at least a two-month waitlist at boutiques to get a new model from Richard Mille. The expensive price tag on Richard Mille watches is an effort to create exclusivity, assuring its esteemed customers that only a small group of people are able to afford a Richard Mille. With a Richard Mille on your wrist, it effectively communicates to the right audience about your status, power, and success, proving that you have a high level of disposable income to drop a hefty amount on a timepiece.
Is Richard Mille in a market bubble?
Prices on RM watches are inflated and the idea of limited edition creates demand in the market. Many speculated that the high premium of Richard Mille watches in the secondary market is creating a bubble and prices will crash.
However, Richard Mille is not in a bubble, not in my opinion.
BROWSE OUR COLLECTION OF RICHARD MILLE ON WATCHLINK.SG
You will not find many Richard Mille available for sale in the secondary market as compared to some of the other popular brands out there. This could indicate that most of the RMs in circulation right now are actually being worn by its owner and not for sale. Richard Mille has total control over production quantity and this prevents supply exceeding demand. In fact, the beauty of Richard Mille watches is highly appreciated and most owners wouldn't want to sell it.  In addition, Richard Mille watches in the secondary market usually find a new owner within a short period of time, a positive sign of high liquidity in the market.
With low supply, high demand and high liquidity, these are the key indicators that Richard Mille's watches are not in a market bubble. Not if Richard Mille continues to do what he does best.
Looking for any specific Richard Mille model? Feel free to contact us or drop us an email at [email protected].