COVID-19 bludgeoned the global economy and has profoundly affected the luxury goods industry. Is it still a good time to buy a luxury watch?
While the COVID-19 outbreak impacts individuals, it also profoundly affects many industries. More than a week after the announcement by the World Health Organisation that COVID-19 is characterised as a global pandemic, many global investors questioned whether the market downturn signals a global recession, and how will the global economy react if the virus continues to spread worldwide. Other than tourism, travel, and manufacturing suffering during this gloomy period, the financial market also crashed due to fear and uncertainty among investors.
Businesses are closing down, people are losing their job, investors are taking a loss. Global demand for most luxury goods has plummeted due to lower disposable income, stay-home restriction and consumers being more cautious when spending money. Luxury sales for the first quarter of 2020 are estimated to suffer from a decline of at least 25% to 30%.
In the luxury watch sector, COVID-19 is affecting the watch industry from a supply chain and production standpoint, with many major watchmakers halting their production in Switzerland factory. Boutiques and authorized dealers have also stopped their onsite operation due to government restriction on business activities, therefore hindering sales activities. With the temporary closure of factories and retailers, production numbers for 2020 will take a hit and sales figures are expected to face the same fate.
To counter COVID-19's restrictions of socializing and public shopping, many brands shifted from traditional retail to digital media and e-commerce. A.Lange & Sohne and IWC launched new virtual boutiques on their Instagram page that allow customers to visit the Singapore boutique online and browse for watches at the comfort of their home. Check it out here: IWC Virtual Boutique and A.Lange & Sohne Virtual Boutique.
With more watchmakers connecting with consumers online, this may just be the beginning where more brands will start to focus and invest heavily on digitalisation, opening up to new realities and new opportunities.
Opportunity in the midst of Chaos
Speaking of opportunities, here are my thoughts on how the secondary watch market will perform during and after the pandemic.
In an environment where stainless steel sports models such as Rolex Professional collection are difficult to obtain at retail due to immense demand, halt in production will definitely exacerbate the situation of long waiting lists. Despite consumers losing confidence in spending on luxury items, the demand for Rolex stainless sports models is undeniably high. In fact, there are occasions where you will find a Ceramic Panda Daytona trading close to SG$40,000 (but probably not sold) in the secondary market after Rolex announced their factory closure. With Patek Philippe and Audemars Piguet temporarily closing their factory as well, we will witness a decrease in supply for highly desirable sports models and the premium on these watches are likely to soar after the COVID-19 impact has recovered.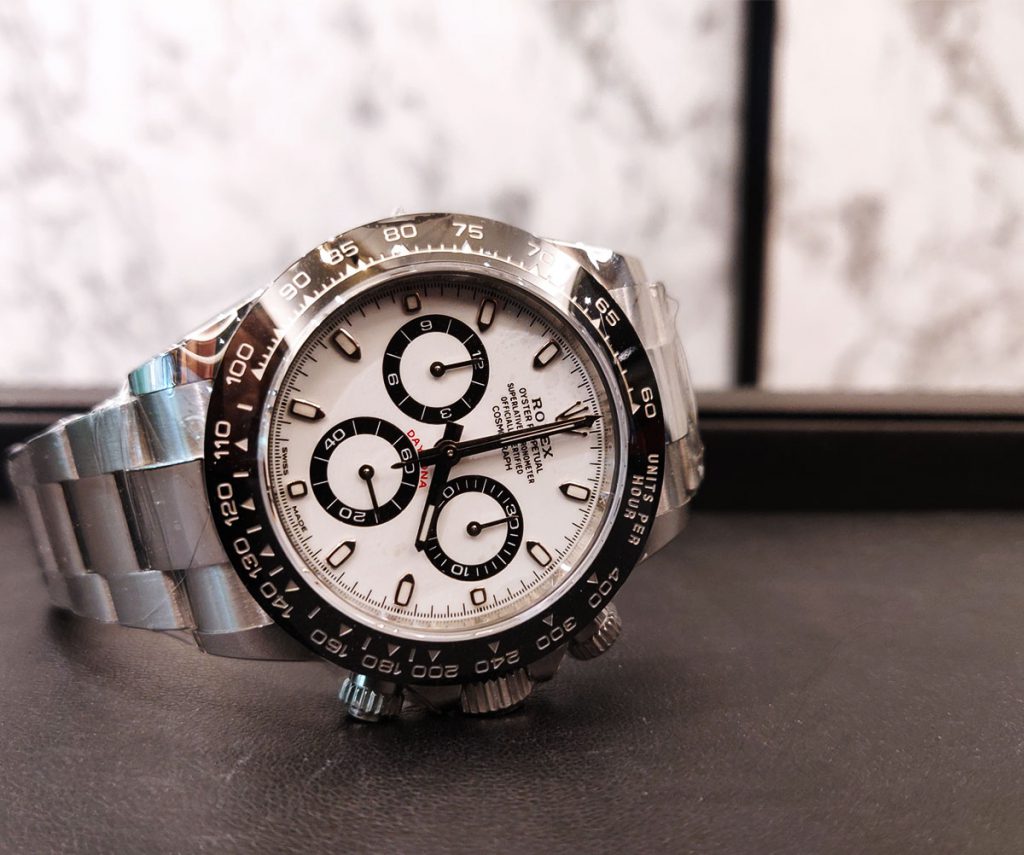 Consumers who are not affected by the COVID-19 pandemic will leverage on this stay home period to save up. After business operations resume and human activities return back to normal, consumers are likely to have more disposable income to spend. Luxury's global reach should become a strength once again when the current situation has stabilized.
"Be fearful when others are greedy. Be greedy when others are fearful" -Warren Buffett
Although there will be luxury watches in the secondary market suffering from a price crash, watch lovers could take this opportunity to acquire their favourite timepiece at a lower price. We have seen some softening on popular models such as the Nautilus and Royal Oak, but there is still an insane premium in the secondary market. Chrono24 prices on these watches are holding relatively strong with the price movement moving in between 7%-10%. As mentioned above, the temporary factory closure will reduce the production supply in 2020 and we will probably see prices of sought-after watches skyrocket in 2021. At the end of the day, market demand for luxury watches will not vanish and the watch market will recover after the economy stabilizes.
Of course, buying luxury watches should not be your priority in times of crisis. Your health and loved ones are more important. This article is to add clarity to this uncertain period and bring across the potential impact of COVID-19 in the secondary luxury watch market. A luxury watch is an expensive purchase and consumers deserve to be aware of market trends before committing their money.
While this is a difficult time for most, I am confident that the watch industry has the ability to bounce back. However, I do not have a crystal ball so… Only time will tell.
***Disclaimer: This article is not financial advice and should not form the basis of any buying decision. Buying a luxury watch is an expensive decision and you should always do your due diligence before any purchase. This article serves its purpose as a guide and forecasts are based on the author's personal opinion.
Looking for any specific luxury watch? Feel free to contact us or drop us an email at [email protected]. We will be more than happy to assist you!
While our store is temporarily closed, we will be working from home and always available should you have any questions or needs.

Watch Link will still be operating online and offering the following services during this period:
1) FREE contactless delivery (within Singapore) for all timepieces in our inventory. We will be updating our catalogue on our website with new watches regularly. For purchase enquiry, please arrange through Whatsapp at +6587766935 or WeChat: WatchlinkSG;
2) For consignment related matters, please contact us via WhatsApp, WeChat or email as well;
3) FREE live consultation regarding consigning or purchasing timepiece will be provided via audio call/video call.