These three Rainbow Daytonas were the proverbial pot of gold at the end of the rainbow.
"I am inevitable." This is one of Thanos' famous lines in Avengers and this is also the exact feeling you get when you have your hands on one of these three gem-set Daytonas.
The Rolex Rainbow Daytona was first released back in 2012 in both white and yellow gold, made in very limited quantities. Although the initial reception was in the mix between two camps, lovers and doubters, these watches hit cult status quickly and its secondary market value skyrocketed since then. There are the 116598RBOW (yellow gold) and 116599RBOW (white gold) Daytona Rainbow, which are both now discontinued.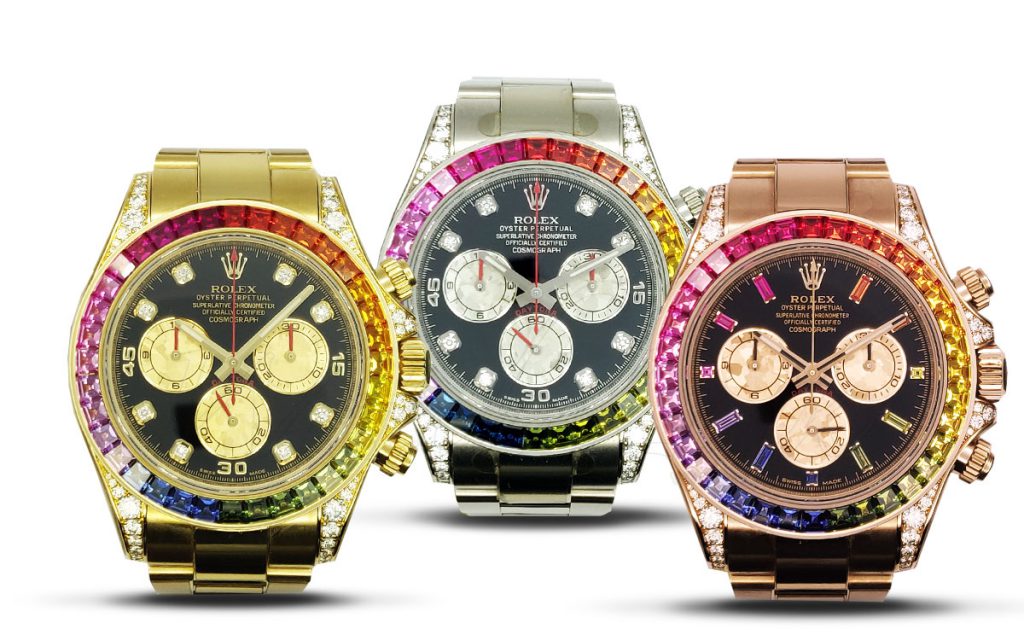 Just when we thought that the gemstone hype is over, Rolex created another wave in the watch industry in 2018 by updating the previous generations of Rainbow Daytona with the Everose version, 116595RBOW, and it looks gorgeous in the metal.
The watch is very similar to the two previous versions, but the case and bracelet are made of a new warm metal and there are different baton indexes at the hours, which, although doesn't sound like it makes a lot of difference, it does make a huge impact.
This change makes for a more coherent appearance. Everose, Rolex's own alloy of pink gold, is paired with a black lacquer dial, Pink Gold Crystal sub-dials, 36 baguette-set sapphires in the bezel, 56 diamonds set into the lugs and case, and colored sapphire indexes.
The Everose gold really brings out the tutti frutti colors on the bezel. There is something so alluring about the pink hue on Rolex everose gold that really amplifies everything, making the rainbow bezel much more vibrant than expected.
Despite the use of precious metal and gemstone in these watches, it is not made to be a safe queen. It is a bona fide robust Rolex Daytona that is built to be worn with pride, just like all of the other Daytonas.
But why are the Rainbow Daytonas so popular?
Limiting production is the well known strategy by leading watchmakers such as Rolex, Audemar Piguet, Patek Phillippe and Richard Mille to spark demand – think of the interminable waiting lists for stainless steel sports models and Richard Mille limited editions, However, for the Rainbow Daytona, there is another factor behind the fuel in demand – natural gemstones.
The limitation of Rainbow Daytonas is determined by the fact that it is extremely difficult to source the right matching coloured sapphire stones that can complement one another for the perfect bezel.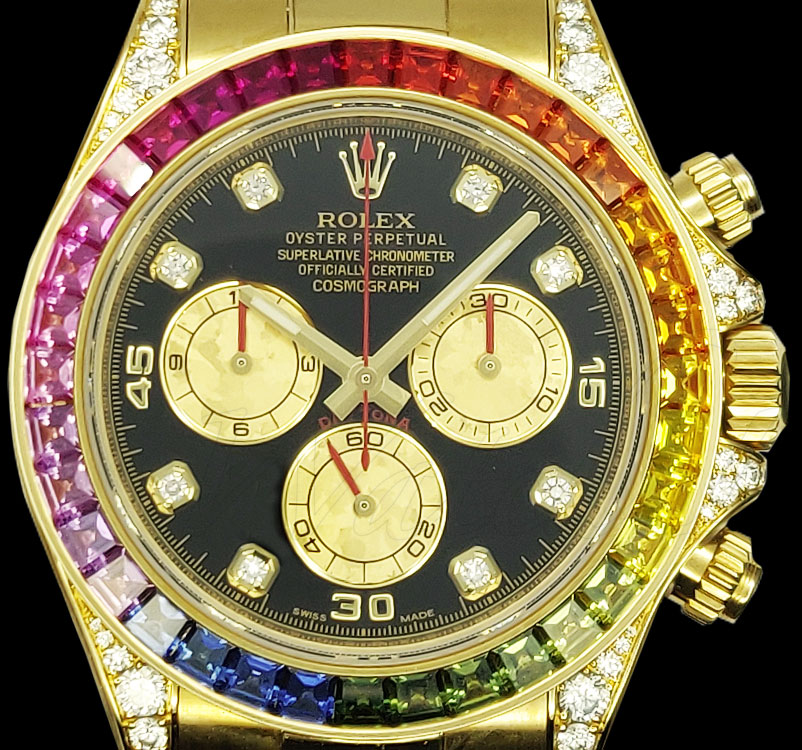 Exuberant and downright flamboyant, it is a watch that you either love or hate, there is no in-between. In fact, I know a few collectors that dislike the Rainbow Daytonas initially but fell in love with it after seeing one in person. Regardless of how you feel about it, one thing is certain, it keeps getting your attention. And due to the characteristics of these watches, the unisex approach appeals to men and women alike.
Gemstone Rolex – Yay or Nah
Although we often associate Rolex with professional, stainless steel sports models, Rolex is no stranger to gem-set watches in its portfolio. In fact, for almost every single collection Rolex is offering, there will be a gemstone variant available. In the quality-driven spirit that characterizes Rolex, they have their own in-house team of gemologists and approximately 20 in-house gem-setters specializing in Rolex precious stones creations.
No flaws in the stones will escape the eagle eyes of these experts and only top quality stones make the cut as Rolex only use stones of "Internally Flawless" quality, the best of the best. Basically, every stone and every setting is perfect because Rolex will settle for nothing less.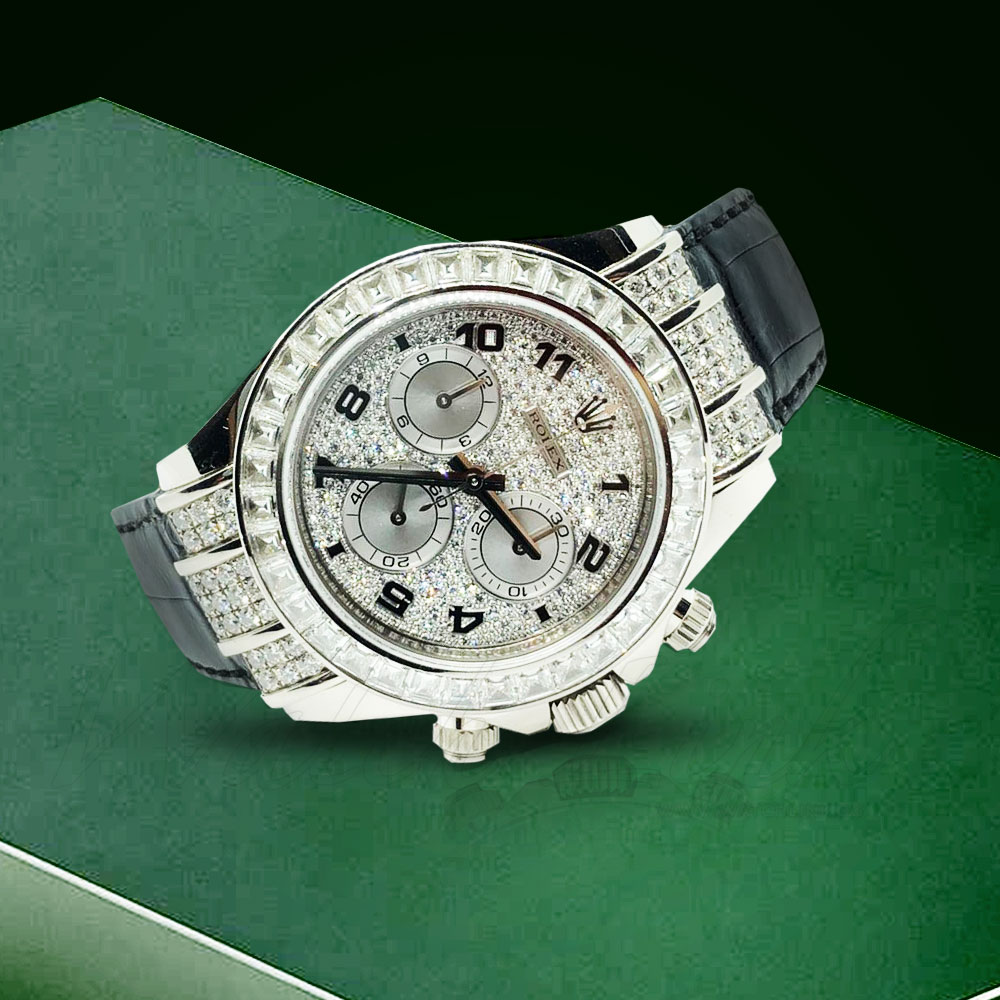 Precious stones on Daytonas are not uncomomon over the past decades or two. The Leopard Daytona introduced in 2005, which was set with yellow sapphires and the Platinum Iced-out Daytona are just some of the examples. The Daytona is the vehicle used to showcase some of Rolex's most artistic métiers applications. 
In my humble opinion, the Rainbow Daytona is the best of the bunch.
There are of course criticisms from the watch community about this watch for being gaudy, tasteless, and tacky.
For sure, these Rainbow Daytonas are by no means subtle, in any form, even for the white gold variant. But they are elegant and beautiful in their own way.
Yes, it's loud. But hey, it doesn't mean that if you are not a fan of diamond watches, you should shy away from these Daytonas. After all, we all need a little colour and shine in our life right?
Would I wear any of these watches? Probably not. But that's because these watches are not meant for someone like me. It's for the specific group of individuals who are celebrating their 8-9 figure investment exit, promotion to senior executive or wish to add to their collection of Rolexes and Pateks. And I don't fall into any of that category.
It takes a specific type of personality to wear these watches with full confidence. The Rolex Rainbow Daytonas can be dangerous if you are not careful. You want to be wearing the watch and not let the watch wear you instead.
I found myself obsessing over it though, especially the everose gold variant. Although my general tastes tend to be very traditional and classic (take the Patek Philippe 5711 40th anniversary or FP Journe Chronomètre Bleu for example), there is something special about the nature of these watches that gets me. Perhaps the reason why I love these watches is purely due to aesthetic reasons but the manufacturing details of these pieces are equally impressive as well.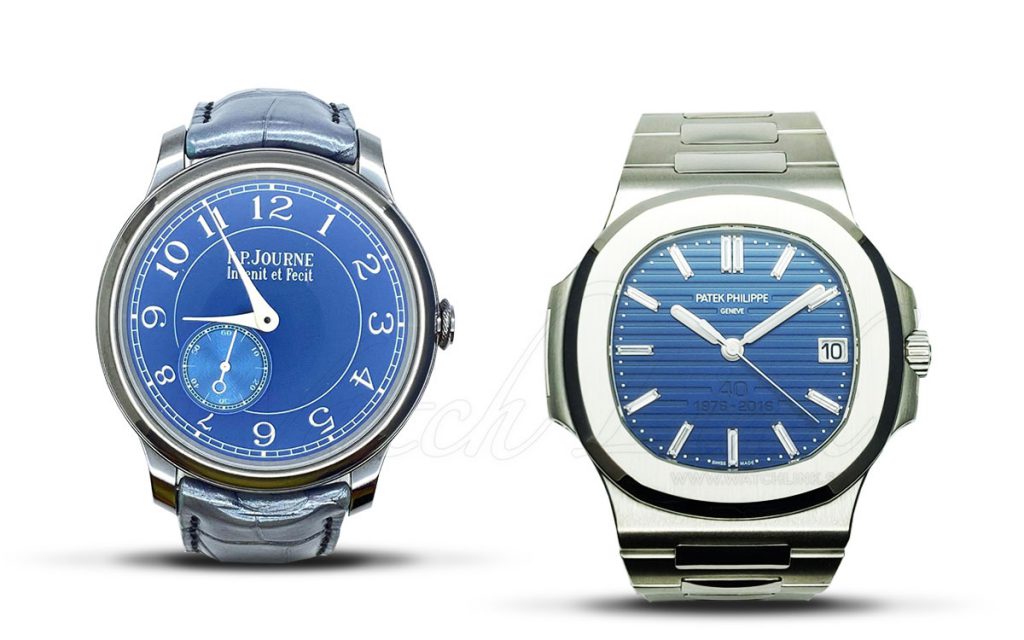 I know that watch purists would definitely have a lot of criticism and hate about how the Rainbow Daytonas are not true to the racing concept of a Daytona or chronograph in general. This is very true, to some extent.
Replacing the tachymeter bezel with gemstones kind of defeats the purpose of a chronograph. However, from a technical standpoint, these watches are not so easy to manufacture.
The gems on the bezel need to be of a specific hue which can only come from scarce natural resources. These stones can't be manufactured artificially and are naturally mined. It is an easy task to complement the other stones in order to create the desired rainbow effect on the bezel.
Therefore, each timepiece will be unique in their own special way although they are of the same reference. Pretty sure that's a bonus point especially in a market where collectors are on the lookout for special pieces.
Final Thoughts
Nonetheless, regardless of what the watch community thinks of the Rolex Daytona Rainbow, finding one to purchase is hard to come by. First of all, its retail price would limit the number of individuals who can afford it, as compared to the more accessible steel variants (which is also hard to come by).
On top of this, the complicated manufacturing process of these Rainbow Daytona means that there will be a limited production number per year from the Rolex factory. It is attributable mainly to the availability of the correct gemstones as well as Rolex's usual strategy to limit production for their popular model.
With all these elements in place, this makes the Rainbow Daytonas' future collectability and value from an investment standpoint a very interesting prospect to consider. Do note that the first two variants, yellow gold and white gold are both discontinued and there are only a handful out there in the market. If you are already considering acquiring a Rainbow Daytona with the cash to spare, do it. Get your hands on this rarity while you can.
You will probably sleep better knowing that you own one of the most collectable modern Daytona in your safe.
Looking for any specific rare and special model from Rolex? Feel free to contact us via whatsapp at or drop us an email at [email protected]. If you are not sure of what to get, feel free to ask our specialised consultant as well! The Lounge by Watch Link is home to some of the rarest timepieces often found in auction houses.