It's not often that you will appreciate a defect item from the manufacturer. However, if you come upon a Rolex with factory defects, you've hit the jackpot. Especially the Zenith Daytona featured in today's article.
It seems today that the trending topic surrounding Rolex watches is focused on watches that sit on the two ends of the spectrum – First we have the vintage, which refers to the "tool watches" made before the 2000s. Then we have the modern professional models, such as the Submariners, GMT Masters or the Daytona that are reselling for a hefty premium in the secondary market. Recently, Rolex controversially released a brand new Submariner collection with an increased 41mm dial and discontinued all 40mm submariners.

Discontinued models, especially for Rolex and Pateks are becoming increasingly collectable, with collectors now categorizing characteristics of certain discontinued models in the same way they would with vintage collectables. I've yet to feel the 41mm Submariners on hand, so we will keep that conversation comparing both models for another day. Today, it's all about Rolex's error and defects being collector's favourite. To be specific, the highlight for today is actually a specific Daytona model with an error dial that is unique in the market right now.
Rolex Error Dials
Before we dive into the watch itself, it is important to understand why error dials are desirable and special. When purchasing a second-hand luxury watch, it's important to thoroughly assess the condition of its dial, as the slightest scratch or flaw can drastically affect its value.
In any other market, with any other product, defects would be a pretty serious issue. An unseemly defect will usually prompt complaints towards the manufacturer. However, for Rolex, what typically might be considered a "defect" will actually add a premium to the value of the watch. For collectors, factory imperfections on the dial are what makes watches so desirable. Why is that so? Dials with such errors are indeed quite rare to find in the market. Sometimes due to how obvious the error is, it has great appeal to collectors who want something special and rare in their collection. Most Rolex references with factory defects were only created in limited quantity, making them highly rare and desirable. As a result, demand often exceeds supply, pushing the prices to appreciate over time.
Does the demand for defect products only apply to luxury watches? Not exactly. In today's market, collectors and hobbyists sought for some of the rarest and unique offerings available in the market. Take Nike Air Jordans for an example.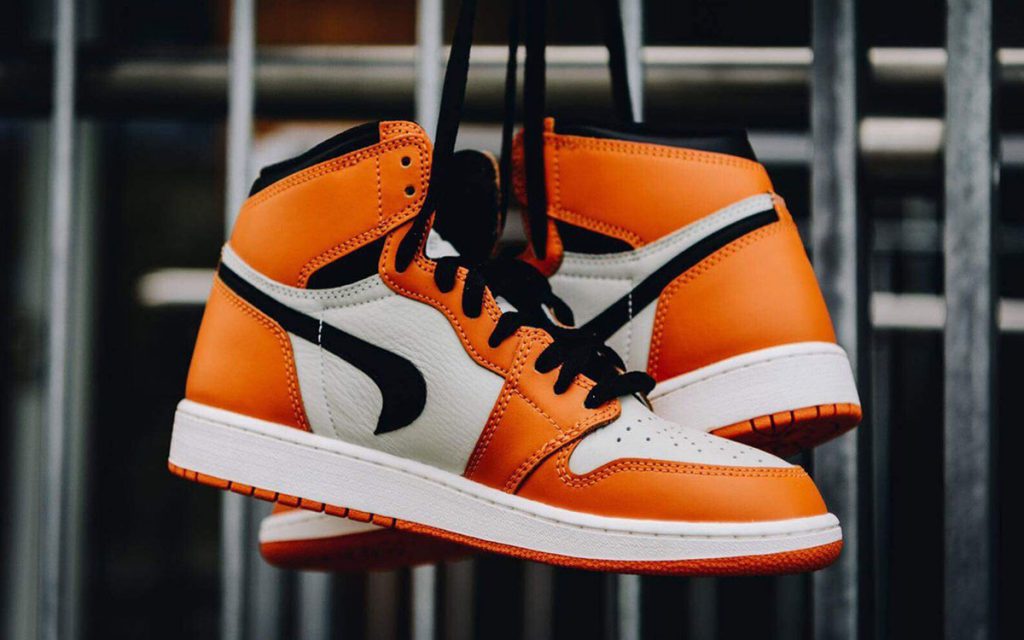 A pair of "Reverse Shattered Backboard" Air Jordan 1s were received by a customer in Italy with a rather interesting factory defect: an upside-down Nike 'Swoosh' logo (Just like the relatively recent Travis Scott Air Jordans). In rare cases like this one, this unique factory defect could dramatically increase the price and demand of a pair of sneakers.

The defect pair is listed on sale for 900 times the original retail price, going for USD$146,000! If only our errors in life are appreciated in the same manner…

However, value appreciation of luxury watches including rare pieces are never any guarantee just like any other products. However, over recent years, the price trends for most Rolex have only increased, let alone rarer models such as vintage or error dials. At the end of the day, if you have almost everything in your collection, you would want something extraordinary isn't it. Let's briefly take a look at some of the popular Rolex error dials in the current market-
Daytona (APH dial)
Commonly found on the stainless steel Daytona reference 116520 (before ceramic bezels), APH error dial got its name due to a gap in the word COSMOGR "APH". Despite this minute error on dial, APH Daytona are deemed very collectable, with a limited number produced over just a few years. Another reason could also be due to the hype in the stainless steel Rolex craze in the market right now. This defect is so negligible that my friend didn't even know that his Daytona is actually an "APH" dial!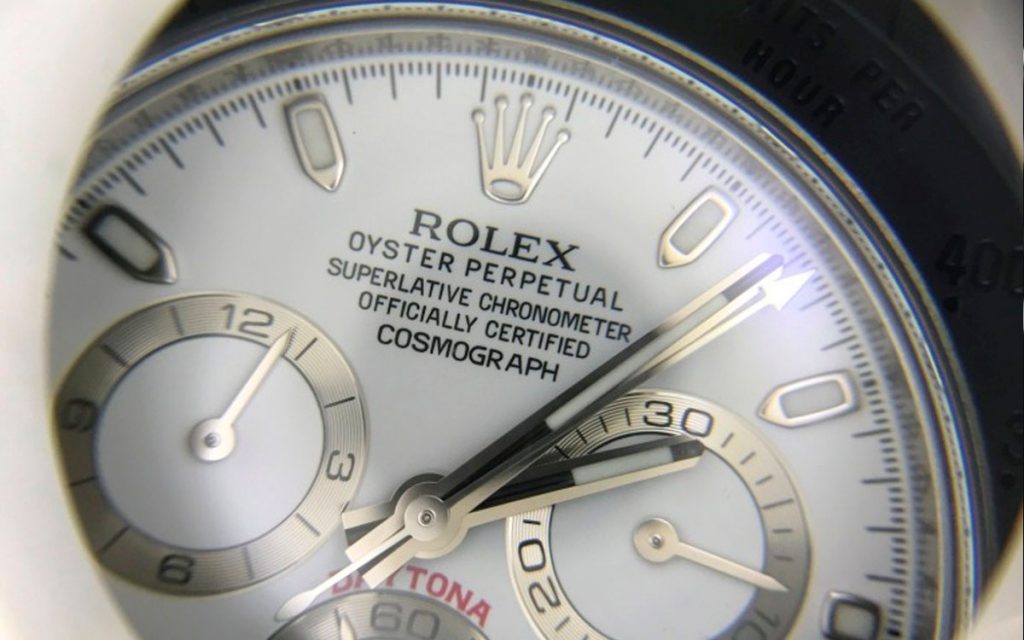 Kermit Flat Four
With the new Rolex 41mm Green ceramic bezel (aka Starbuck), it is just a matter of time before the market shifts their attention to the discontinued HULK and Kermit. However, the earliest batches of the Kermit reference 16610LV display a slightly lighter-coloured green insert with a specific font to the '40' marking, namely the 'Flat Four' or 'Fat Four'. As compared to the "standard" Kermit, the 4 on the "Flat Four" bezel has a flatter tip. This is a minuscule difference but collectors get crazy over it. This specific model was only in production for around 7 years and its value appreciated at a much higher rate than similar models, due to its individuality, nickname and 50th-anniversary status. Will the "Kermit" further increase in value over time?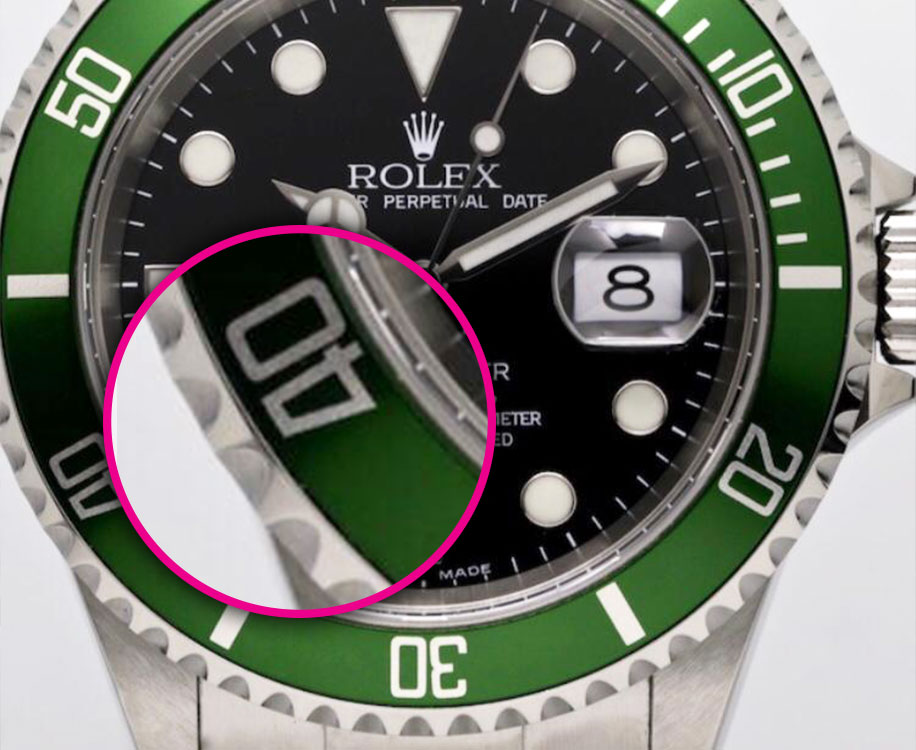 Rolex Spider Dial
Rolex's watches went through a transitional period during the 1980's, experimenting with new materials, innovating advanced movements, and adjustments to their designs in order to give their watches a more luxurious feel, making it more desirable. One such adjustment was switching the dial from matte to gloss in all of Rolex's sports models. However, Rolex hadn't perfected the lacquer finish that would be applied to the black dial and this created an unusual cracking surface over time, unintentionally creating a sub-variant of several of their offerings which are now known as the "spider dial". This is one of the most obvious errors found in some of the offerings available in the market today.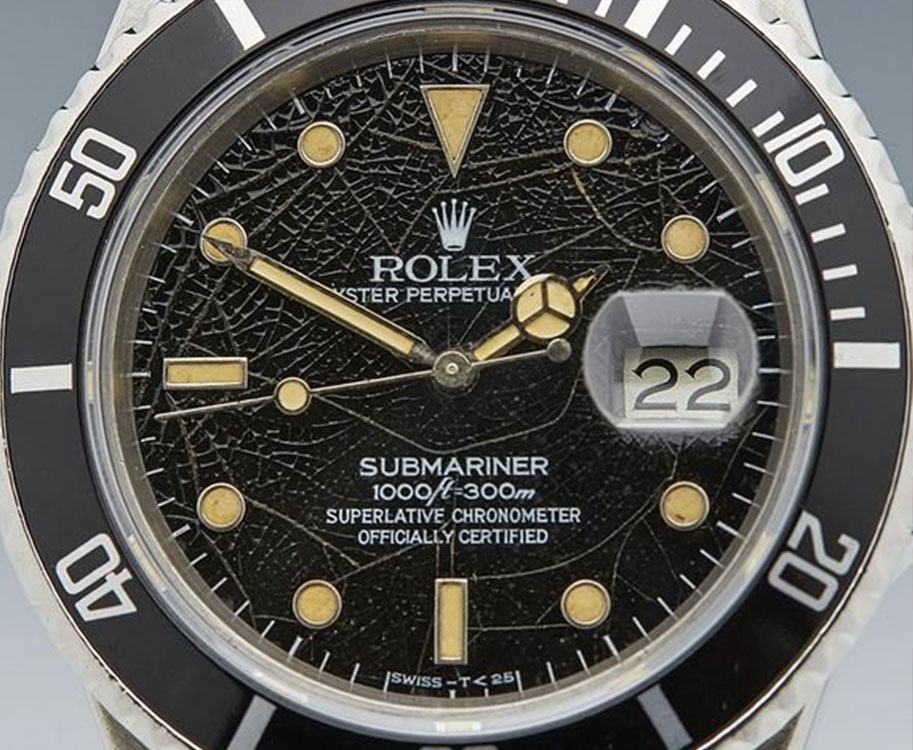 Tropical Dials
For a few decades, Rolex applied a sun-protective chemical finish to its black dials. But instead of preventing fading, that coating accelerated discoloration resulting in many dials turning varying degrees of chocolate brown, depending on the environment. As most watch lovers know, the joys of collecting vintage Rolex is knowing that no two watches can ever be truly identical, given the unique aging process aka natural patina that goes along with every watch, usually on the hour markers and fonts. However, seeing watch bezel inserts fading to vibrant shades of blue and fuchsia or black dials turning to rich shades of chocolate brown is rather unique, which in turn makes the watch more appealing to collectors. Just like a unique tropical dial, a transition in dial colour reaches its final state after years of sunlight exposure and humidity.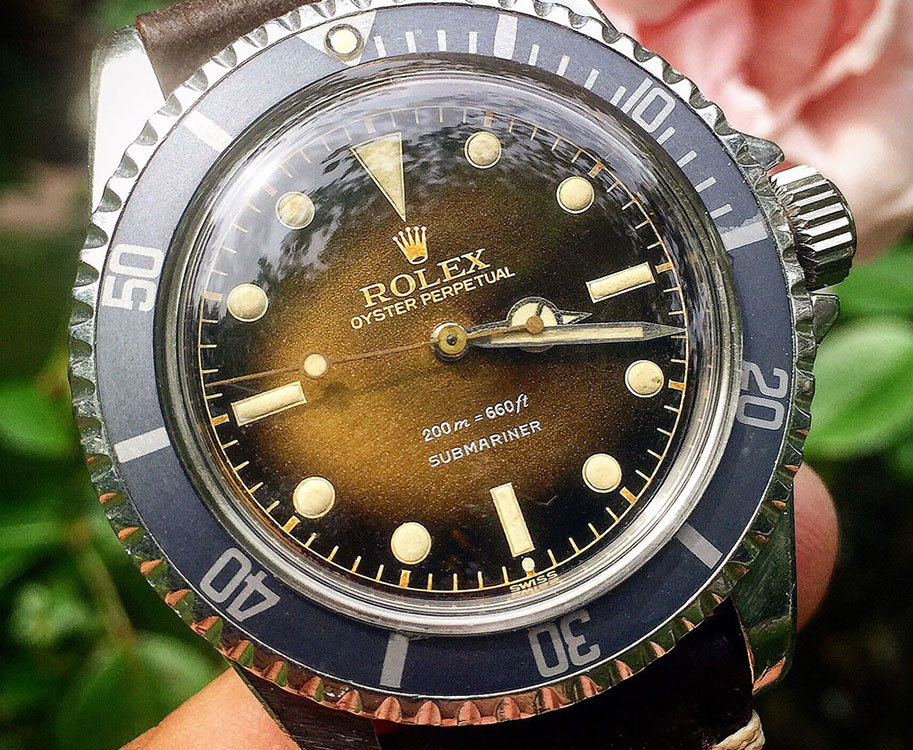 Rolex Zenith Daytona "Error Dial" Ref. 16520 (No "Daytona")
The watch we are focusing on today is an incredibly rare and novel example of reference 16520, as the dial does not display the usually-found prestigious red 'Daytona' script at 6 o'clock. For those who are wondering if it is a fake or has an aftermarket dial, this specific watch has already been sent to Rolex Service Centre for authentication.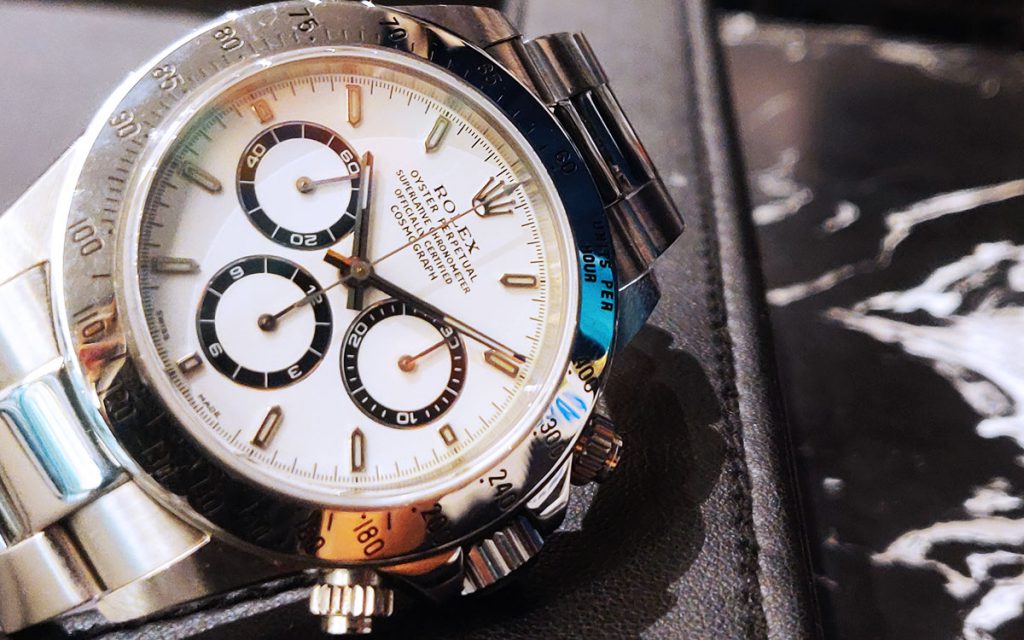 The watch most likely left the Rolex factory in 2000 with a quality control oversight. As a result, this 'mistake' has rendered the watch incredibly rare and valuable today, giving it an unique appearance. Based on my research and the information online, this is probably the only known reference 16520 with this exact dial configuration to have appeared on the auction and secondary market, making it rarer than the special edition Zenith-based Daytonas made for Rolex directors back in 1991.
The characteristic of this watch benefits from a couple of factors. Error dial, discontinued movement and an extremely unique piece. Rolex is known for an intensive quality-control process that includes several stringent internal checks before the watch is sent out to COSC (Contrôle Officiel Suisse des Chronomètres), a Switzerland organisation that tests a watch's accuracy, before returning back to Rolex for a final round of check. Rolex hardly ever makes a mistake like this due to the high standard of quality control. It is interesting to see small variations, especially in modern-day productions from Rolex, which are certainly outliers. In the world of watch collectors, outliers mean rarity, and rarity can prove highly desirable. Highly desirable means a premium in the secondary market. Ironically, how this mistake went undetected through all the checks in the Rolex factory remains as a mystery to be solved. It's like Porsche selling a 911 Turbo S without the 911 badge…
On the other hand, Daytona with Zenith-driven movement itself is already highly sought-after among collectors. Rolex only worked with the best in the industry. Before the 2000s, the Zenith El Primero is known to have the best self-winding chronograph movement available on the market, therefore, it is no surprise as to why Rolex decided to partner with Zenith for the Daytona movement. Although the 16520 movement is based on the Zenith's El Primero, extensive modifications were undertaken to align the new movement with Rolex's requirements, increasing reliability and minimising the need for maintenance. Since Rolex does not rely on third party suppliers anymore, Zenith based Rolex movements will hold a special place in collector's hearts.
Other than the movement, the aesthetic of the ref 16520 is also slightly different from its predecessor. As compared to the previous generations of Daytona, the Zenith Daytona come with a lacquered finish dial instead of matte or metallic. The trio of sub dials received a contrasting outer ring.
It is also the first Daytona that has crown guards and a scratch-resistant sapphire crystal. Since everyone who can afford a Daytona wanted a Daytona, consumers are on the look-out for different models, be it vintage, discontinued or modern models. The limited availability of the Zenith-base calibre only added fuel to the fire, pushing its price up to almost 2 times the retail price. Price of a Zenith Daytona with an error dial? Even higher.
How special is the Daytona Zenith Error Dial?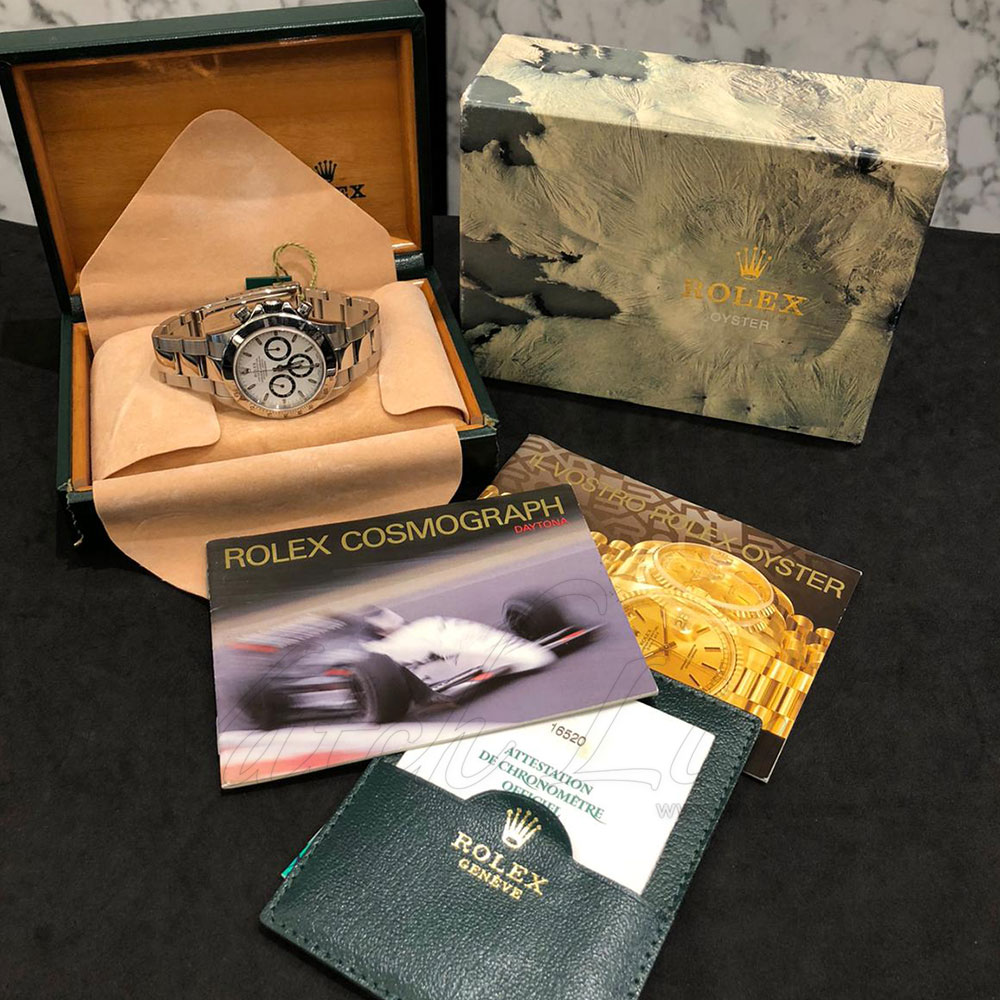 Well, this unique piece is definitely a conversation starter. Imagine the attention it gets when you bring it out to a watch gathering with your watch gang. I've seen a couple of really unique and rare timepieces in Watch Link inventory but it's safe to say that you will probably never see another example of this Daytona anywhere else in the world. Although it does catch a premium in the secondary right now, do note that the Daytonas with Zenith movements have yet to reach the "vintage" level of Rolexes at the moment. Can you imagine the demand 10 or 20 years later? I leave it to your imagination. I am not saying that this will become a Paul Newman Daytona on the long run, but we can never really predict how the future will be like isn't it? So the question for the lucky few who can afford it is, would you buy a Patek Philippe Nautilus 5726 or this Daytona without the word "DAYTONA" on the dial?
Looking for any specific special and rare model from Rolex, Patek Philippe or Richard Mille? Feel free to contact us or drop us an email at [email protected]. If you can't find it from us, you probably can't find it anywhere else.