A Sea-Dweller with a great story of adventure is worth more than one without. Especially one that's minted back in 1968.
The Double Red Sea-Dweller Ref 1665 MK 2 is currently my favourite reference among all vintage Rolexes. Period. Over the vintage Pre-Daytonas/Daytonas and COMEX Submariners.
Am I insane to favour the Double Red Sea-Dweller over the "holy grail" vintage Rolex chronographs and COMEX submariner? Probably.
If I can own it all, I would love to have it all. But if I can only choose one "grail" vintage Rolex and wear it, it got to be the DRSD. Specifically, this example I have on my wrist today.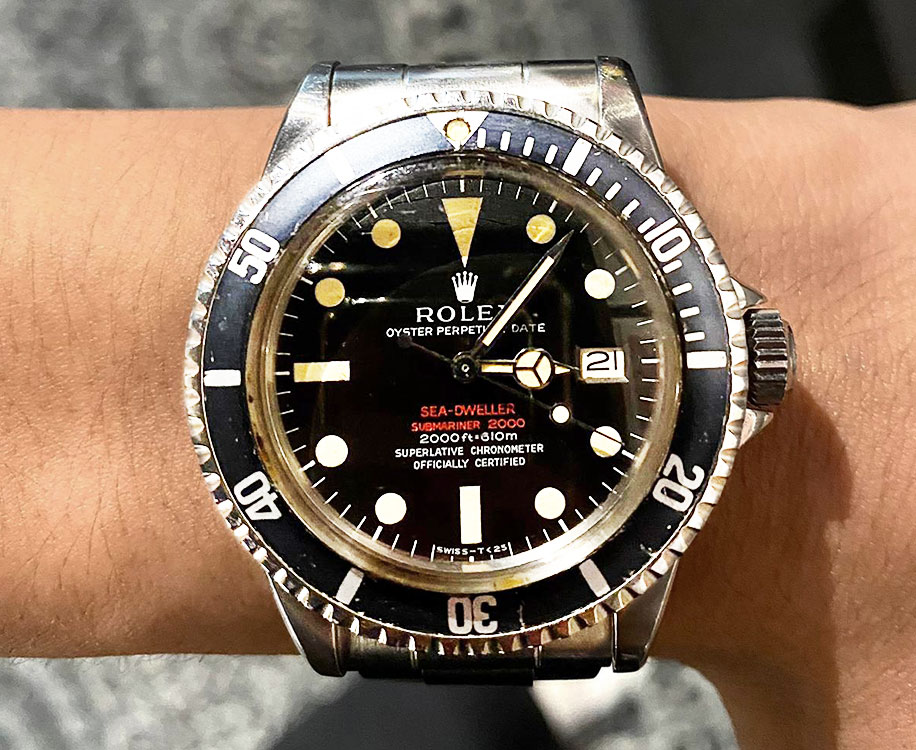 Before I dive into the reasons why, disclaimer ahead. I am not a vintage expert that remembers all references for every different variant Rolex has ever produced. Exclamation point, glossy or matte dial, tritium or radium hour market, red triangle bezel and so on and so forth. Vintage watches from Rolex or even Patek Philippe fall into a whole new category for watch collectors to dive into and they deserve a dictionary of their own. My opinion and preference may differ from yours but that does not take the spotlight off the DRSD.
The World of Vintage Rolex
A Rolex sports "tool" watch from the 1960s to 1970s has an aura of adventure; the sign of wear on the case/bracelet and patina show that the watches had gone through an exciting journey since its birth from the Rolex factory. The fun with vintage Rolex watches is that because there are so many different variants for the same model, you can usually find the exact "configuration" that suits your personal taste. In most cases, some of the vintage watches are only produced in a limited quantity before Rolex changed small details of the model. This makes specific reference numbers more rare and collectable in modern-day.
Buying and collecting vintage Rolex has a lot to do with the aged aesthetics and story. It is not about collecting the latest and greatest horological innovation but a piece of history. There will be little interest in the mechanical movement for most vintage watches. After all, if it is a Rolex, it got to be good isn't it?
Many collectors tend to be more interested in a nice-looking dial, matching pair of hands, complete set with original parts or unique characteristic, rather than to make sure the mechanical movement is functioning with extreme precision (come on, it is a vintage watch..). Nothing wrong with servicing the movement, of course, it is always good to make sure that the watch is in perfect technical working order. But as a vintage watch, collectors would very much prefer an untouched/original timepiece with full box and papers. This is when exclusivity comes into place, with some vintage Rolexes fetching an extremely high premium in the market right now.
Just to clarify, most Rolexes are not exclusive in terms of production numbers, even for vintage Rolex. Rolex has always been known as the luxury watch manufacturer with a high production capacity. So how are they considered "exclusive"?
Because of collectors' needs for specific vintage models with specific reference number, dial, bezel, production year or patina. To top it off, due to the age of vintage watches, most are not in great conditions or come with full presentation box. There may be plenty of vintage Rolex in the market now, but to find one in its original state is hard to come back, especially for certain models with a short production duration. The demand for vintage Rolex watches is incomparable.
Why I Prefer the Double Red Sea-Dweller over other vintage Rolexes?
To be frank, I love the Daytona in general, over other Rolex models. Be it the Cerachrom Panda, "Rainbow" gemstones, yellow gold with green dial, platinum with a chocolate brown bezel or the good old Paul Newman Daytonas, I love them all. That being said, if I were to get a Daytona, it will not be a vintage Daytona (vintage Rolex lovers please don't kill me.) So why would I prefer a vintage Sea-Dweller over the newer models or even the contemporary Submariners? Because I am not a fan of any 43/44mm SD or any of the post-2000s Submariners.
The Rolex Submariner collection has achieved cult status in the world of luxury watches. With all due respect, it is definitely an iconic and amazing watch. However, the Submariner market is unfortunately too saturated at this point in time. Everyone who can afford a Submariner probably wants one. Out of 10 Rolex consumer, probably more than half of them owns a Submariner.
So why not the 43mm or 44mm Sea-Dwellers?
Blame it on my small wrist. Most watches above 41mm looks awkward on my wrist….
If I were to pick a special Diver from Rolex, I have to be picky with my choices here.
Now, let's dive into (no pun intended) the vintage Rolex diver category and pick my grail. Many collectors will probably go for their birth year reference, since it holds a special place in their collection. However, my birth year production is "quite boring"…
Next, we look at some of the more collectable and rare pieces. You would probably be looking at Rolex COMEX at this stage, the big daddy of vintage Sea-Dwellers. COMEX (Compagnie Maritime d'Expertises), is the French commercial diving company that commissioned Rolex to create dive watches.
These watches were exclusively issued to COMEX employees and never available to the public for sale.
They are the most coveted vintage Rolex watches in the market.
Rarity? Check!
Rolex COMEX were built as tool watches to get a job done, ensuring that it is reliable and functional to get the job done.
Quality? Check!
There's the obvious "COMEX" designation on the dial, unlike many other Rolex watches.
Uniqueness? Check!
So isn't the COMEX Sea-Dweller the clear winner here? Especially at 39mm, a perfect size for most wrists.

Well… Almost. Then again, I am nitpicking here. For someone who prefers the minimalistic design on almost everything, the "COMEX" signature on the dial is not something I craze about from an aesthetic point of view. You probably think I am full of nonsense at this point but everyone has their own preference isn't it? So, if not the COMEX, what's next?
The Double Red Sea-Dweller, Ref 1665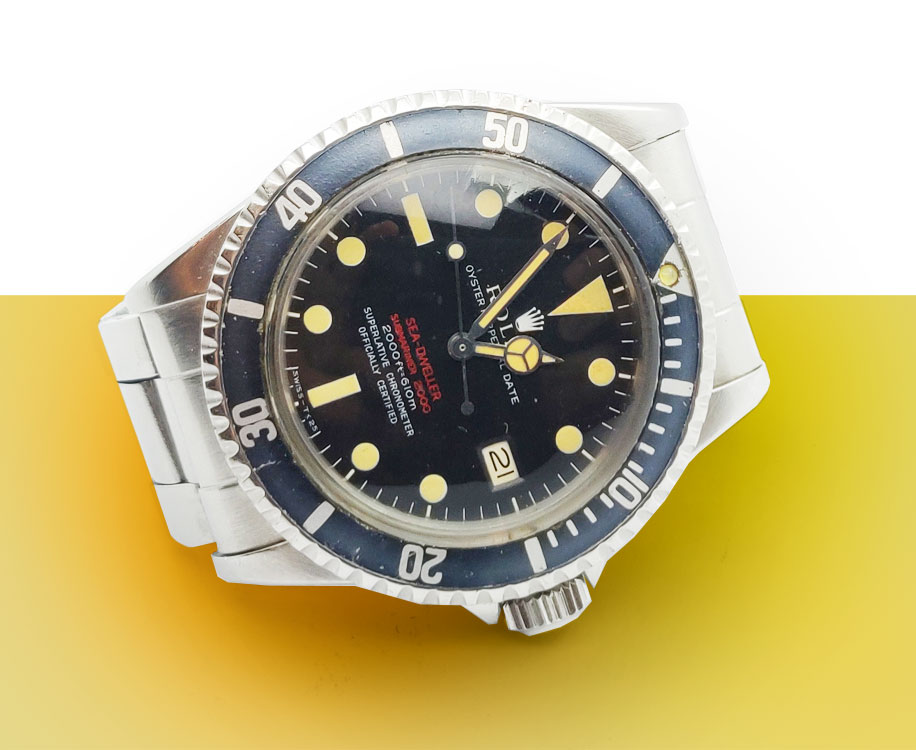 The DRSD is a close sibling of the Rolex COMEX Sea-Dweller. The original concept for the Sea-Dweller was developed in conjunction with COMEX back in the 1960s, specializing in engineering and deep diving operations. At the time COMEX needed a diving watch for their professional divers to use whilst working on deep-sea oil rigs.

To satisfy this need, Rolex modified the classic Submariner watches to incorporate a helium escape valve (HEV), subsequently creating a specific reference just for COMEX. Following on from the success of this project the decision was made in 1967 to create a new reference fitted with helium escape valves – the Sea-Dweller Ref. 1665 – and offer them for commercial sale.

The very first production Sea-Dweller was the Double Red Sea-Dweller (DRSD). The nickname refers to the two red lines on the dial, which set it apart from the handful of prototypes that feature just one line of red text. The "Single Red" prototype is so rare that I have to exclude from my "grail" list. Single Red Sea-Dwellers almost never appear for sale. A complete set of Single Red in mint condition would very likely fetch over a million dollars at auction.
In comparison to the standard Submariner of the time, the DRSD and its 40mm steel case could be distinguished by the obvious valve on the left case, just like all Sea-Dwellers. It also offered a date display at three o'clock and crucial information for divers measuring their lengthy stays underwater. Interestingly, the Plexiglass did not feature the usual cyclops over the date window, as it would not have sustained the underwater pressure (at the time the cyclops was simply glued onto the crystal). Instead, there were thick domed plexiglass crystals that are collectors' favourite.
A few dial versions are known, based on small variations on the fonts. These variants are classified from Mark 0 to Mark 4, with Mark 5, 6, and 7 being later replacement dials from Rolex. As with most vintage watches, the earlier the configuration, the more valuable the watch will be– so you can expect prices for Mark 1 and 2 to be many times that of the more common Mark 4.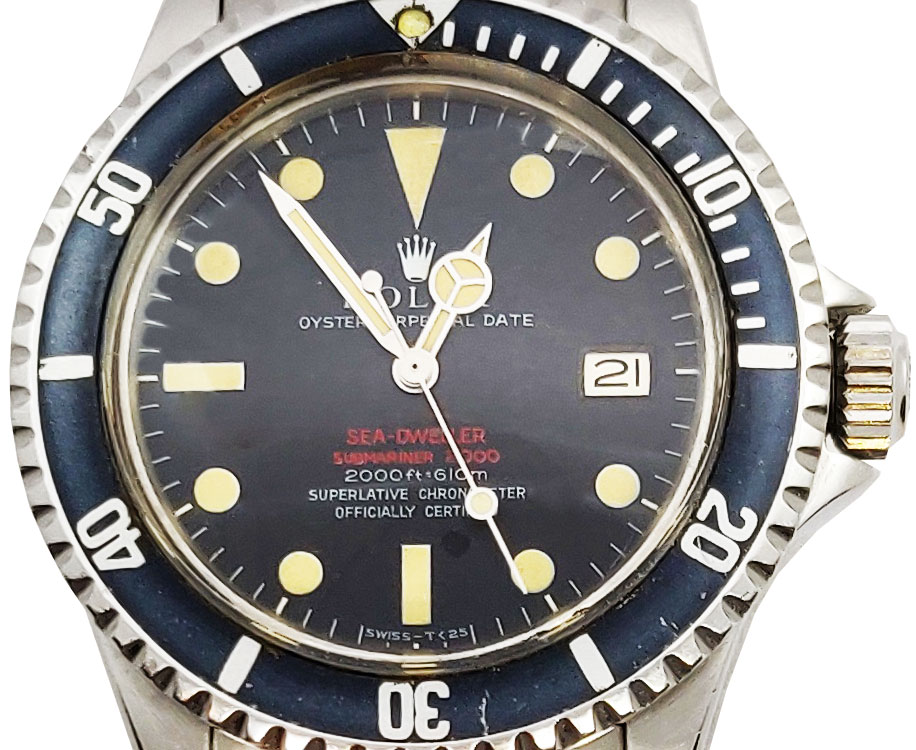 This specific watch we looking at today is the DRSD Ref 1665 Mark II dial. It has a different look and the dial has been slightly oxidized, turning into a subtle shade of brown that can be striking under different lighting. Due to its unusual vintage colour of the dial, this makes the watch much more attractive and unique as compared to other similar watches. For this specific DRSD I have with me today, the original black colour bezel changed to a subtle dark navy blue as well. As a huge fan of "blue" watches, this is a big plus for me (not sure about you).
The dial has a double red printed "Sea-Dweller" (obviously…) on the first line and "Submariner 2000" on the second. The Mark 2 dial can be identified by the stretched cornet (Rolex Crown) with the letters "D" and "W" on the print "Sea-Dweller" touching one another. What is also very charming is the uniform way that the hour markers and hands have aged consistently, resulting in a warm ivory tone. Fitted with an Oyster bracelet, the case back is stamped IV.67 with a rare "Pat Pend"-signed. The patent-pending signature is because Rolex had just filed for the patent back then and not yet received the patent for the helium escape valve.
Only around 150 examples of these early examples were made. Factoring in that most of this 150 are either sitting in collectors safe, serviced or damaged over the past 5 decades, finding an MK II dial in the vintage market will not be an easy task. Unless you are lucky enough to find it at an auction house or at the one and only WatchLink in Singapore.
Specifications
DOUBLE RED SEA-DWELLER, PATENT PENDING, REFERENCE 1665 A STAINLESS STEEL WRISTWATCH WITH DATE, GAS ESCAPE VALVE, THIN PATENT PENDING CASE, MK 2 DIAL AND BRACELET, CIRCA 1968
Dial: Black
Calibre: Cal.1570 automatic, 26 jewels
Case: Stainless steel, screw-down case back
Case number: 1'719'735
Closure: Stainless Steel Rolex bracelet and folding clasp
Size: 40 mm diameter, bracelet circumference approximately 193 mm
Signed: Case, Dial and Movement
Accessories: Rolex Instruction Manual and Presentation Box
Looking for any specific special and rare model from Rolex, Patek Philippe or Richard Mille? Feel free to contact us or drop us an email at [email protected]. If you can't find it from us, you probably can't find it anywhere else.