The festive season is around the corner! Pondering on what to gift to yourself or your significant other? Here is a list of luxury watch gift ideas – from Entry Level to "Money is not an issue".
With Christmas well on its way, now is the perfect time to plan what gifts to buy for yourself or your loved ones. If you are looking for a timeless purchase, what is better than a luxury watch? Luxury watches never go out of style and effortlessly add a subtle touch of class and elegance to any outfit. There's nothing more luxurious that men covet, other than a beautiful, mechanical timepiece (or cars for some). Whether you/they're an engineer, a pilot, a professional or a businessman who's an Haute Horlogerie enthusiast, these gifts are guaranteed to knock his socks off and put you at the top of his will (kidding!).
What to look for in a Luxury Watch
Brand – Luxury watch brands represent style, success, history and wealth. A right watchmaker that fits the wearer personality will effortlessly enhance any outfit and boost the owner's confidence. Be sure to know who is your favourite watchmaker and what suits you best.
Materials – There are many different materials to choose from in a watch, including stainless steel, platinum, or gold. The most common glass material protecting the dial is sapphire crystal glass. If you are looking for practical and durable case material, keep your eye on stainless steel! Yellow leans towards a more classic vibe while rose gold tends to be a little more elegant. If you are a subtle male that loves a hefty watch, white gold and platinum will probably be the best option.
Movement – This refers to the well-crafted engine working its magic behind the dial – watch mechanisms that allow the watch to function. Luxury watches are mostly mechanical, either automatic or manual wind. Consider which mechanism will best suit the wearer and their lifestyle. Solid case-back or see-through? You decide.
Functions – Also known as complications, functions are the features that a watch can have, such as a date wheel, chronograph, tourbillon, minute repeater and moon phases. If you are looking for a more complicated watch, it will usually come at a higher cost though.
Below $10,000
This category is for watch lovers who are looking to buy or receive their first-ever luxury watch. A well made mechanical timepiece does not always have to be crazy expensive. For some of the best entry-level luxury watch brands you can find, check out this article.
Tudor Black Bay "Dark"
If Batman owns a Tudor, this will be the model in his wardrobe. It's a suped-up, blacked-out take on the company's popular vintage-inspired diver, with a fully PVD-treated exterior with only two tiny splashes of colour on the depth rating and around the lumed pip on the rotating bezel. The Black Bay Dark provides a totally different experience than its older siblings. This is also the very first Black Bay to debut with an in-house movement, MT5602 is designed and made by Tudor.
Tudor Black Bay GMT
Calling the Tudor GMT a poor man's Rolex GMT Master "Pepsi" will do this watch an injustice. Yes, Tudor is the younger sibling of Rolex and the GMTs look very much alike. But that's the beauty of the Black Bay GMT, isn't it? For a fraction of the price, with similar function and aesthetic of a GMT Master, what more can we ask for? The Tudor GMT is by far one of the most "value for money" luxury watches in the market right now, equipped with both quality and practicality on your wrist. And yes, it is powered by Tudor's in-house movement as well.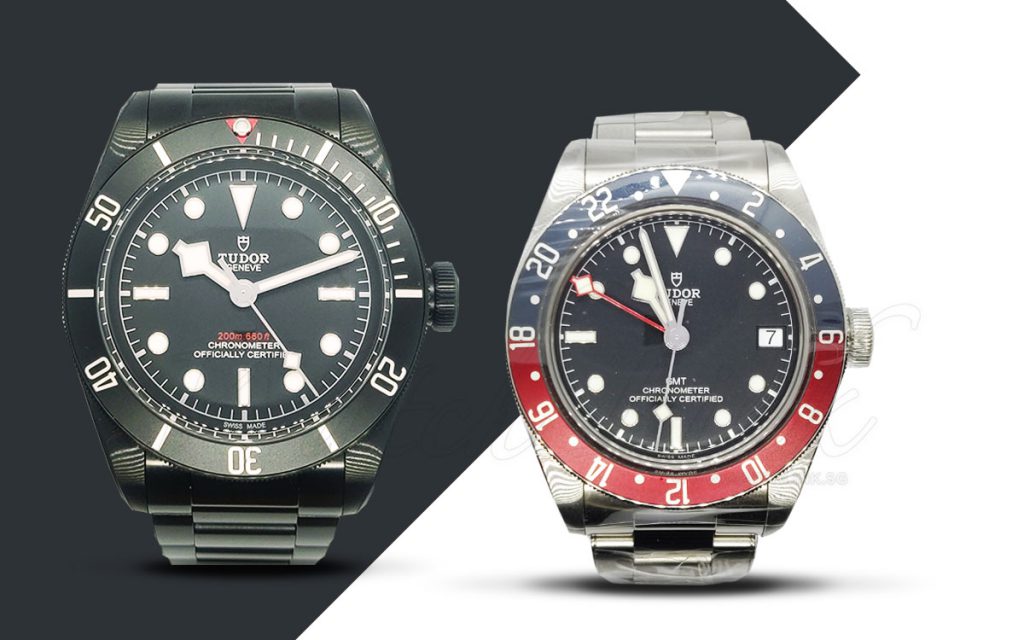 Bell & Ross BR-05 Skeleton
A well-made skeleton watch for a reasonable price? Bell & Ross BR-05! The overall appeal of the BR-05 collection is very similar to the Patek Philippe Nautilus. On first glance, you will find that both watches have a rather similar design element although it will be naive to say that both watches are similar. For someone who is a fan of skeleton watches or the Nautilus but is unwilling to pay the high price, this BR-05 Skeleton might just be the perfect watch.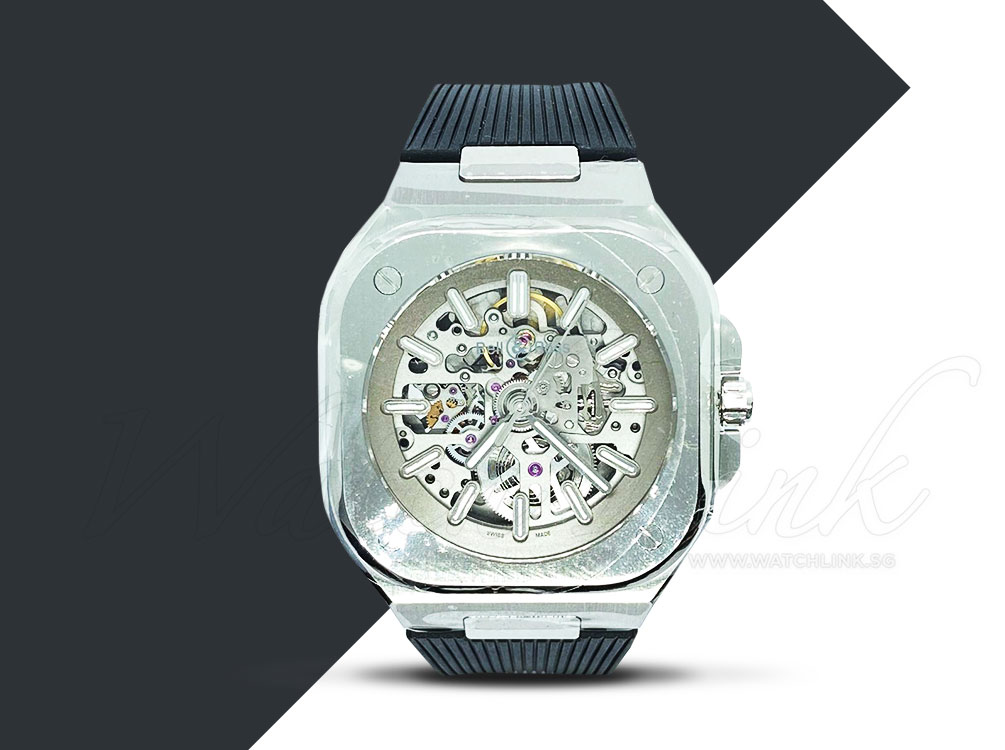 Any Stainless Steel Panerai
Alright, I know I'm cheating here by not providing you with a specific model to look out for. But with so many Panerai models out there in the market with a similar style and price point, the world is your oyster. If you like the look of any Panerai, you will probably like most of the Panerai available in the market right now. Be it the Luminor or the Radiomir, any stainless steel PAM will be a great option below $10,000. For more information regarding Panerai, check out our article featuring Panerai here.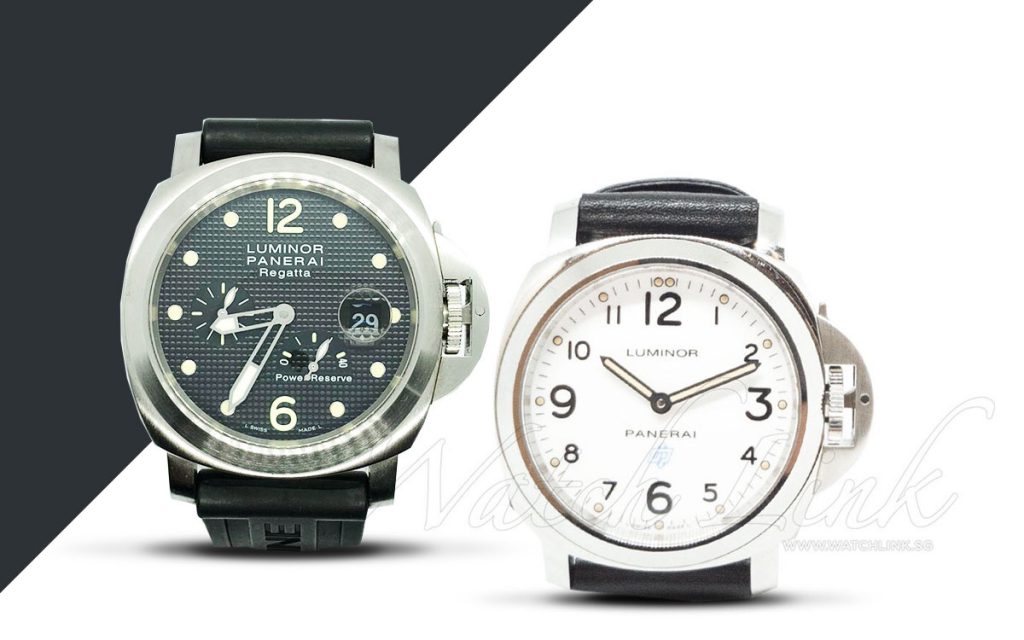 Below $50,000
Now we are starting to get a little more serious and explore some of the hottest brands in the market right now. I know I skipped the price range where most of the Rolex Stainless Steel Sports Models (eg, Submariner, GMT-Master II) are sitting at. But if you are already looking to gift or buy a Rolex, you probably don't need any recommendations (although I did feature two Rolex under this category). For an in-depth article regarding Rolex and their offerings, click here to find out more.
Rolex Cosmograph Daytona 116500LN
You probably heard of it and seen it everywhere on social media. But I just can't leave the Ceramic Panda Daytona out of this list. The 116500LN is by far my favourite Rolex model in their current offerings. The contrast between the white dial, black sub-dial with the red "Daytona" and black ceramic bezel is simply alluring. Does it deserve the insane premium in the secondary market? I will let you decide on that, but it definitely deserves the attention and love from the watch community. Looking for other beautiful chronographs in the luxury watch market? Here's another guide for you.
Audemars Piguet Royal Oak Offshore Survivor
This specific model is for watch lovers with Arnold Schwarzenegger or Sylvester Stallone physique. Limited to 1000 pieces worldwide, this is one of the coolest and most badass limited edition Audemar Piguet has ever released. The Offshore collection might not be the most desirable AP in the market right now but heck, you got to admit that this is a unique piece from one of the greatest watchmakers in the world. Be sure to match it with a nice leather jacket and black-out shades for the fullest experience.
Roger Dubuis Excalibur Spider Huracan
If you own a Lamborghini, a Roger Dubuis will be the perfect watch companion. Even if you don't own a racing bull from the Italian automobile manufacturer, the Excalibur is probably the closest thing you can get at a fraction of the price. Heavily skeletonized, the inclined spring balance echoes those on the V10 engine of the Huracan. The Roger Dubuis Excalibur Huracán was developed like a supercar. The best modern materials using the latest manufacturing technologies led to a super-watch. A car like Lamborghini Huracán deserves a company of the same calibre.

Patek Philippe Aquanaut 5167A
It's not just the Nautilus that gained traction with the steel hype. The Patek Philippe Aquanaut collection's popularity and value skyrocket after collectors caught on to the beauty of the Patek Philippe's true sports collection. The Aquanaut is a beautiful and elegant sports watch that deserves the spotlight. On a rubber strap, the Aquanaut established the trend for casual luxury watches with a sporty feel, attracting a new and younger demographic to Patek Philippe.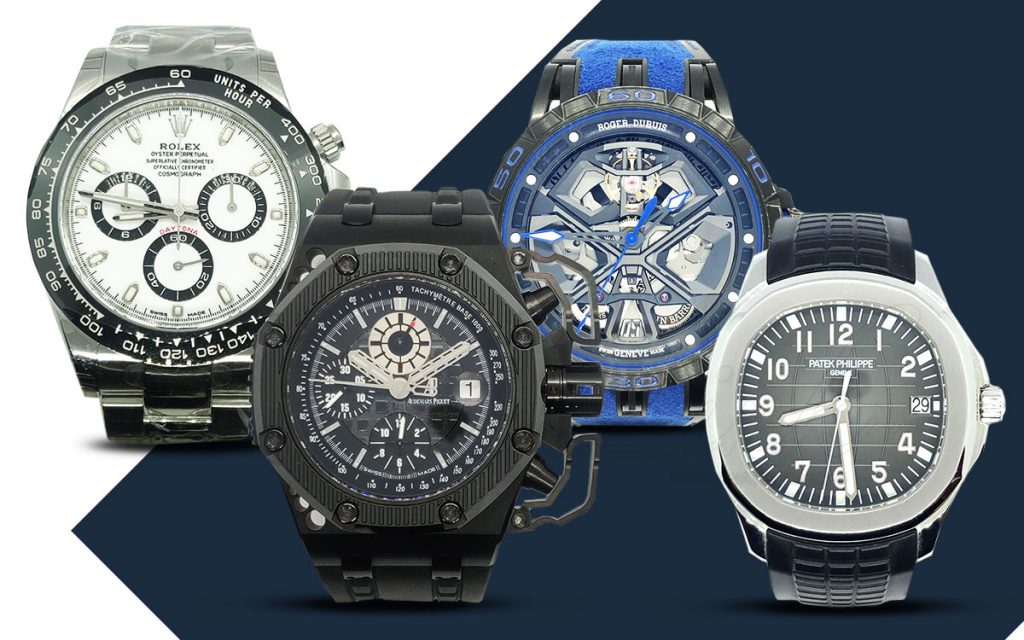 For the Vintage Enthusiast:
Rolex Explorer II "Steve McQueen"
When it comes to investment watches, nearly all genuine Rolexes are suitable targets, but some models worn by screen idols such as Paul Newman and Steve McQueen hit the lucrative collector's market and achieved incredible results. With the Rolex Explorer anniversary upcoming, it will be interesting to watch how the market will react next year. This might be your best chance to purchase the Explorer II "Steve McQueen" before collectors start to jump on vintage Explorers.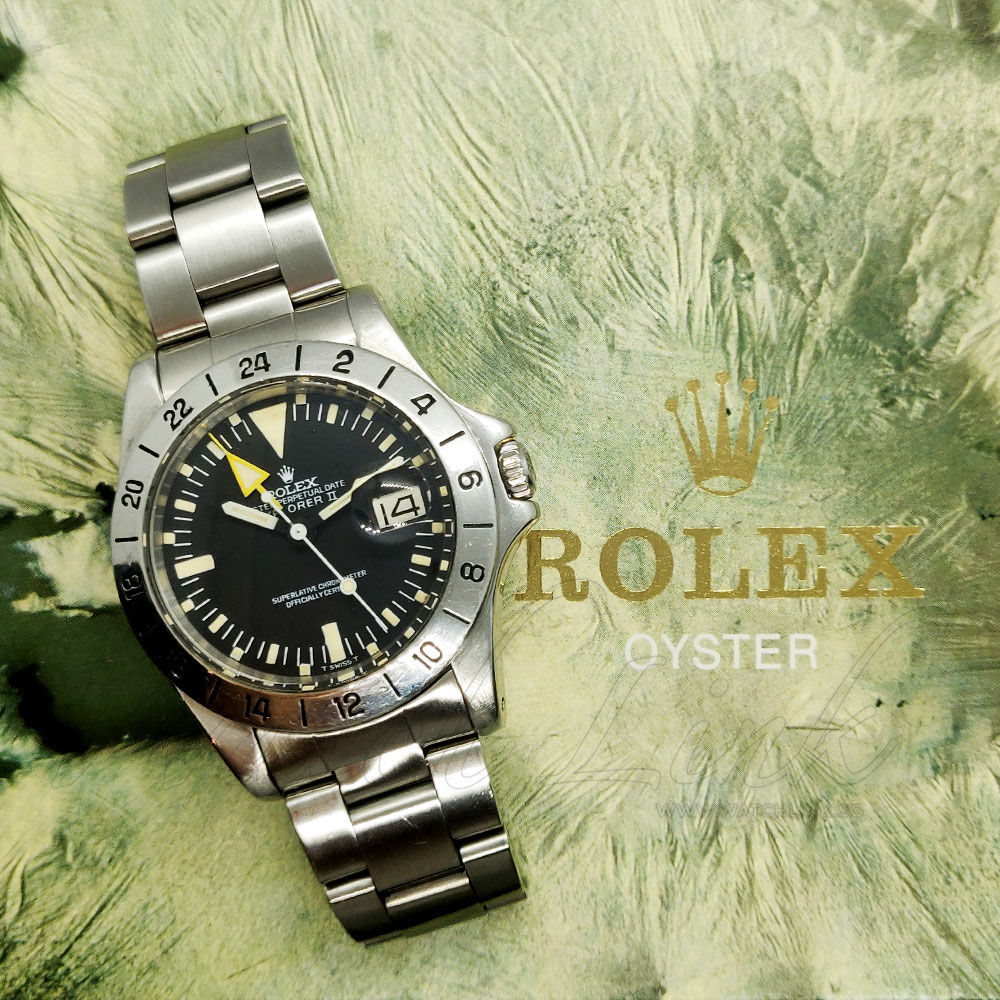 Below $150,000
If you are looking to get a gift within this price range, your options are limitless. From the latest creation by the best watchmakers around the world to the most desirable vintage models ever, you will be spoilt for choice. There are so many watches that I wish to shortlist in this segment but if I were to only pick a couple, these are my recommendations.
Audemars Piguet Royal Oak "JUMBO" 15202ST
If you are looking for "THE" one and only Royal Oak to own, you are at the right place. The AP RO Jumbo is by far the most popular Audemars Piguet timepiece since its debut and it definitely deserves the throne. The Royal Oak Ref 15202ST is a prime example of a product that doesn't have to be fancy to turn heads. The brushed finish on the case and the bracelet give it an almost utilitarian feel. Yet the contrasting polished facets on the bezel hint at a sense of sophistication. From a pinstripe suit with peak lapels or beach shorts with sandals, the Jumbo is fitting for all occasions
Audemars Piguet Royal Oak Chronograph 26331OR
If the stainless steel RO Jumbo with blue dial is too subtle for your liking, how about the Rose Gold Royal Oak Chrono? This 20th-anniversary edition master timepiece in 18-carat rose gold, features an arrestingly blue "Grande Tapisserie" dial. Functions of the Royal Oak Chronograph 41mm include hours, minutes, small-seconds, date and chronograph. This Audemars Piguet Royal Oak measures 11mm in thickness and 51.8mm from lug-to-lug.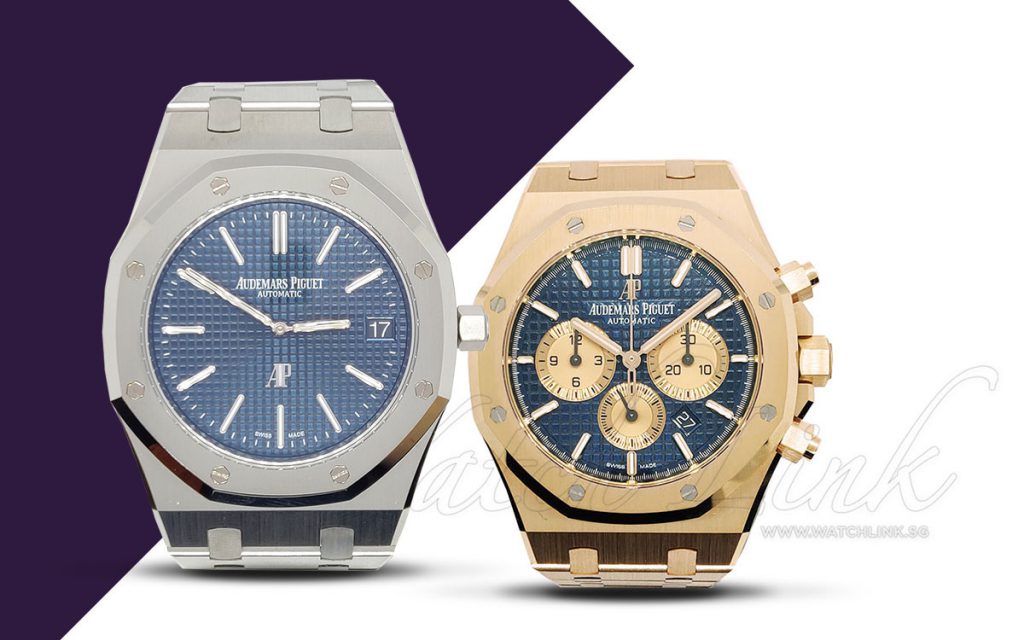 Patek Philippe Nautilus- Moonphase/Annual Calendar/Travel Time Chronograph
At almost similar price range, it's hard for me to decide which would be the best option for you. But if you are a fan of the Nautilus, you can't go wrong with either one of these three. The questions is, what complication do you want in your watch? If you are wondering why the plain jane Ref.5711/1A is not included in this list, you will figure that out in the latter part of this article. But if you like the 5711, why not consider the AP RO "Jumbo" featured above? For a detailed article featuring the Patek Philippe Nautilus collection, click here.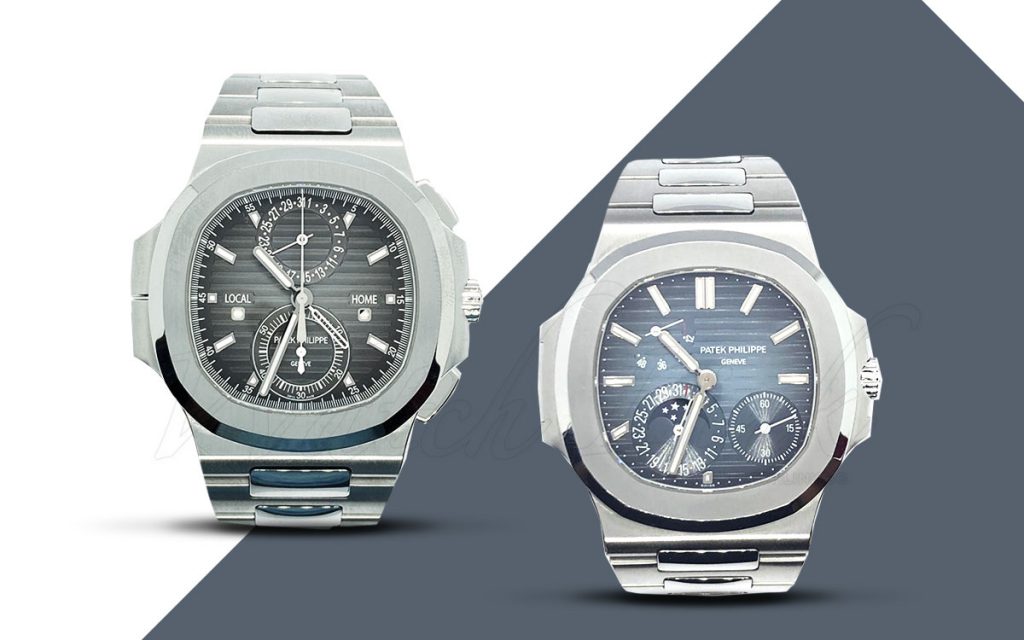 A.lange & Sohne Zeitwerk
The world's first mechanical "digital" wristwatch made by one of the finest watchmakers. Unlike your usual mechanical timepiece, there are no hour and minute hands on the Zeitwerk. Instead, there are three discs underneath the dial that display the hour and minutes, bearing a general resemblance to digital clocks. If you are looking for a watch with "WOW" factors and a more contemporary approach to dress watches, you should definitely consider the Zeitwerk. Click here for the full Lange Zeitwerk Review.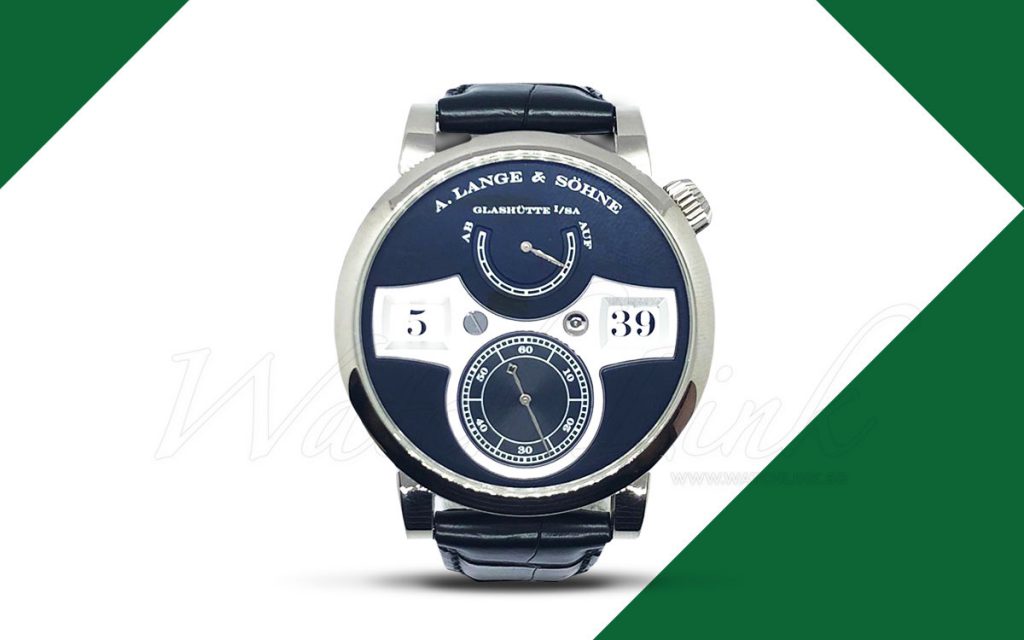 For the Vintage Enthusiast:
Patek Philippe Nautilus 3700
This first ever Nautilus was born out of a turbulent era of high-end Swiss watchmaking. More than 40 years after the introduction of the Patek Philippe Nautilus, it is today considered as one of the masterpieces of modern watch design. No more than 5,000 stainless steel Nautilus Ref 3700 were produced from 1976 to 1990. Why should you pay the premium for a vintage 3700 as compared to the modern 5711? The "missing" second hand on the vintage Nautilus Ref 3700 model gives a cleaner look over the Ref 5711 with a centralized second hand and the original typography on the Ref 3700 dial is a desirable feature appreciated by vintage collectors. This 3700 is the reason why the 5711 is left out from this list.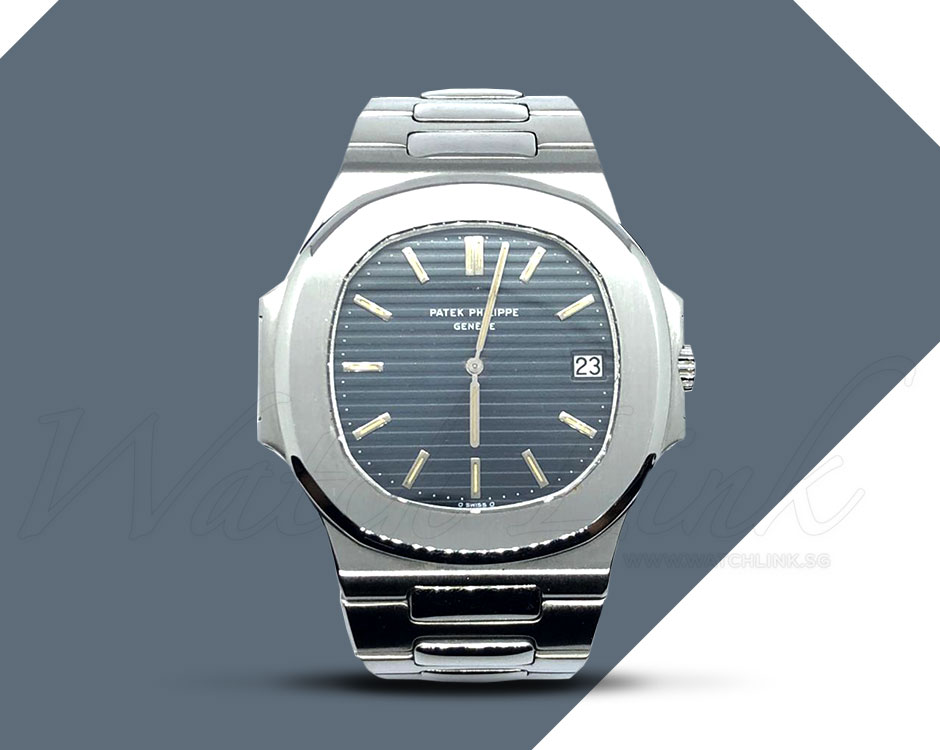 Rolex Double Red Sea-Dweller
I've recently wrote an article on this specific watch. If you've read it, you would know why I included this on the list. The DRSD in my opinion is the "holy grail" Rolex diver in the luxury watch market at the moment. Only around 150 examples of these early examples were made. Factoring in that most of these 150 are either sitting in collectors safe, serviced or damaged over the past 5 decades, finding an MK II dial in the vintage market will not be an easy task. But if you can find it, I promise you that it will be the best gift ever.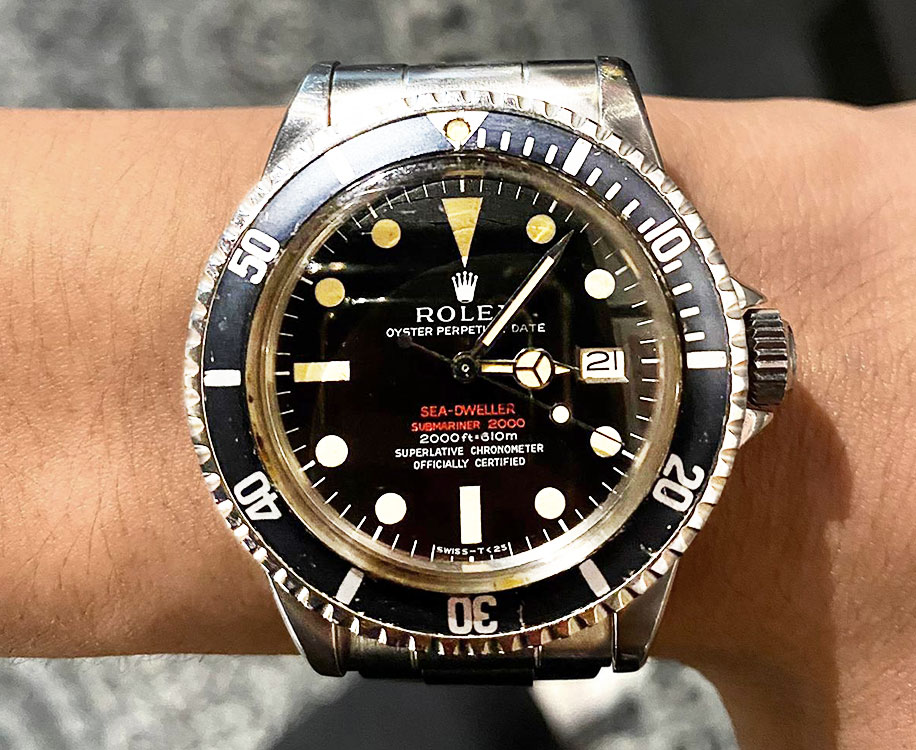 Baller Edition
Who says money can't buy you happiness? If you fall into the top 1% and want the best watch money can buy, here are my recommendations. Do note that this list is based on my personal interaction with the watch, which is why Patek Philippe Minute Repeaters or Richard Mille Tourbillons are not found. If I can get my hands on one in the future, I would probably include them in this list.
Rolex Rainbow Daytonas (Set of 3)
Why just get one watch when you can get THREE! You will either love it or hate it. And I hated it initially before falling in love with it. If Thanos wears Daytonas, this set of Rainbow Daytonas will be his prized collection. Don't be fooled by what some will say about this watch. Yes, it is paved with gems with many colours and it is tacky. However, the Rolex Daytona "Rainbow" is far from being merely an aesthetically special watch. It is a notable technical achievement for Rolex. The quantity of "Rainbows" that have been sold is quite limited, so one way or another it is very rare to find one for sale, let alone 3. And since rare often increases the desirability, it's slowly growing in the heart of collectors, and gaining in value rapidly.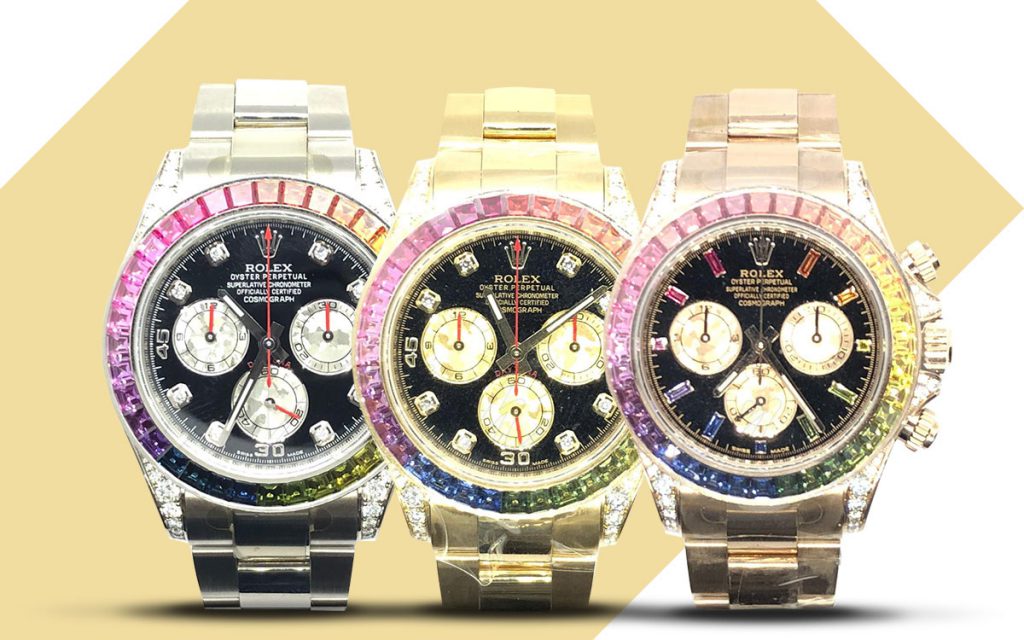 Patek Philippe Nautilus 5711/1P "40th Anniversary"
Apart from the "VVVVIP" only Platinum "Blue Jeans" Nautilus 5711, the 40th anniversary edition is the creme de la creme of all plain-jane Nautilus manufactured in the 21st century. Full platinum case and bracelet with diamond baton hour markers, you will not expect anything less for a limited edition Nautilus to celebrate its 40th anniversary. Limited to only 700 pieces of this platinum 40th Anniversary Nautilus 5711/1P, this is what serious luxury watches are all about.

Patek Philippe Nautilus Perpetual Calendar
The most complicated Nautilus ever, unless they release a minute repeater, tourbillon or grand complication Nautilus in the future (Take note Patek!). The reference 5740G is a solid white gold Nautilus measuring 40mm across with a recognizable perpetual calendars layout on the dial that shows the month, day, date, leap year, moon phase, and 24-hour cycle. This watch is a demonstration of Patek Philippe's savoir-faire: thin, bold, perfectly polished, balanced, complex and obviously, desirable.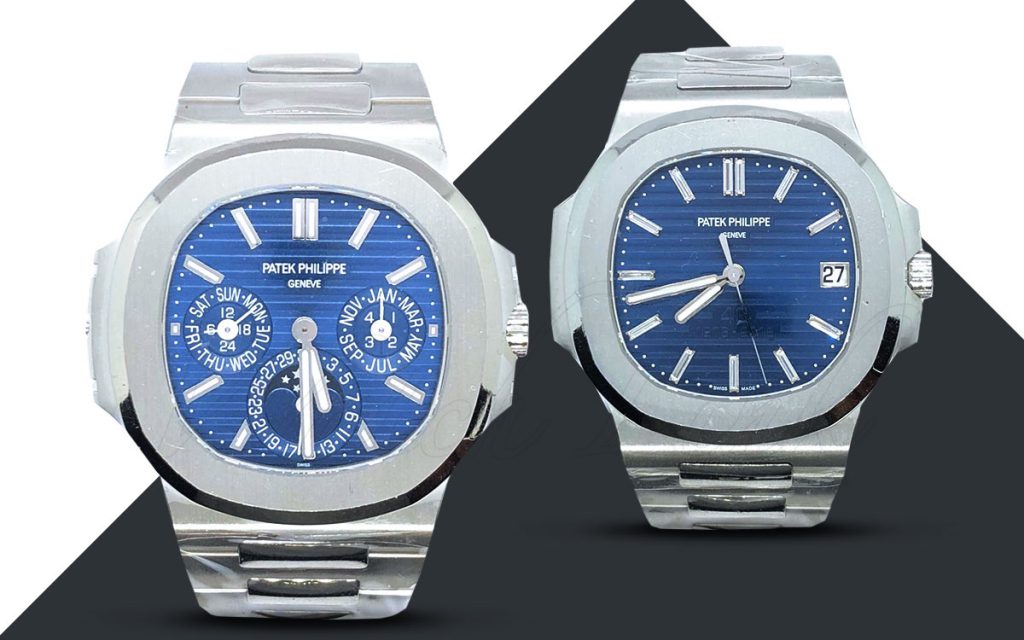 Richard Mille RM11-03
RMs get a lot of love and hate within the watch community. But you got to give them credits for their innovative design, watch engineering and marketing. The RM 11 is the most recognizable and the most classic model in Richard Mille collection. The classic Tonneau case is a unique eye-catching design that comes from 20 spline screws in grade 5 titanium. Each case usually involves 202 separate machining operations.
Most RM11 features a flyback chronograph, a 60-minute countdown timer and an annual calendar in a relatively busy dial that follows the unmistakable look of Richard Mille watches. Dive into the world of Richard Mille in this article.

MB&F Horological Machine N°6 (HM6) SV
Is this a spaceship or a time-machine? There has never been anything ordinary about MB&F watches, but the Horological Machine N°6 really took the extraordinary to the next level; the design element was out of this world. As showy and recognizable as all MB&F creations are, this MB&F HM6 SV "Sapphire Vision" unapologetically sets a new standard for large-wearing and showy watches. You can also pull up a titanium shield to cover the tourbillon – to protect it from UV rays or just for fun because, why not?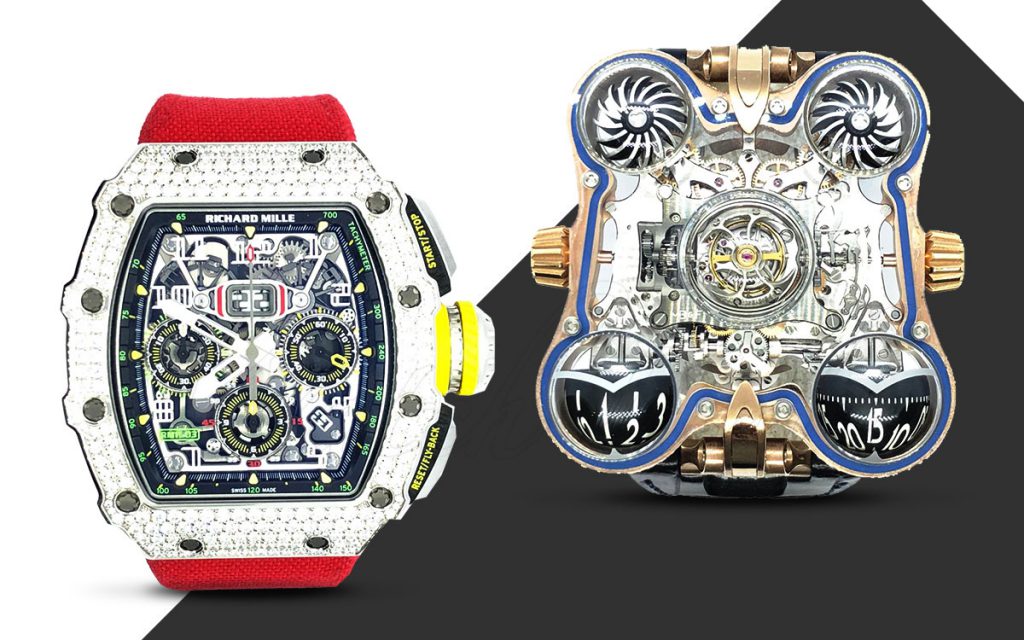 For the Vintage Enthusiast:
Patek Philippe Nautilus 3700 "Tiffany & Co"
The Godfather of Nautilus with Tiffany's approval. Double-signed dials from Patek Philippe have a special appeal to collectors, given their exclusivity and rarity. As a result, the expensive and lengthy process of purchasing a Tiffany stamped Patek makes the watch extremely desirable. Although there are no exact production numbers for the Tiffany Nautilus Ref 3700, it is certain that it will only be a small percentage of the 5000 standard steel models produced. Do keep in mind that the Ref 3700 is no longer in production since 1990, which is a positive sign for appreciation in value over time. Want to read more about the Patek Philippe Nautilus Tiffany Dial? Read this article!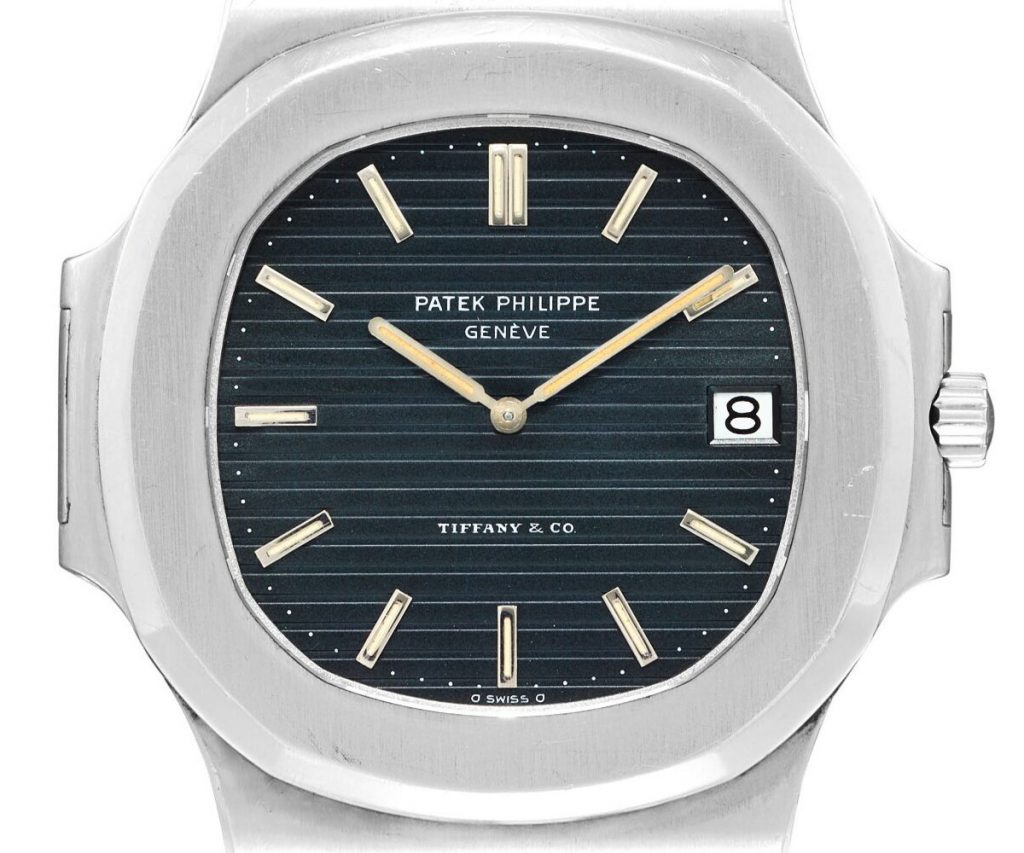 Looking for any specific watch brand or model? Feel free to whatsapp us at +65 8776 6935 or drop us an email at [email protected]. If you can't find it from Watch Link, you probably can't find it anywhere else. If you are not sure of what to get, feel free to ask our specialised consultant as well!