The Iconic Crown – Rolex is among the world's most recognisable luxury brands. If watches are stocks, Rolex is the blue-chip. 
Synonymous with luxury, high quality and imbued with a rich heritage, Rolex is a universe of its own – Respected, admired, valued, and recognised globally. You've probably heard of it even before you heard of Audemars Piguet or Patek Philippe. A person who knows nothing about watches views Rolex as the "Number One". It doesn't really matter if you are a watch aficionado or an amateur, you need to have a Rolex in your collection.
BROWSE THE ROLEX COLLECTION ON WATCHLINK.SG
Brief History of Rolex
4 years before the brand "Rolex" was registered as a trademark in 1908, watchmaking company Wilsdorf and Davis (W&D) was founded by Hans Wilsdorf and Alfred Davis in London (Currently, Rolex HQ is based in Geneva, Switzerland). Wilsdorf and Davis (W&D) assembled Hermann Aegler's movement and Dennison's watch cases into a wristwatch before distributing to jewellers for sale. Wilsdorf has a clear goal for his company – To produce watches that are able to accompany their owner through the adventure of life.
Why did Wilsdorf change the company's name to Rolex? Because Wilsdorf wanted his brand to be easily pronounced in any language. Indeed, it does.
In 1910, Rolex became the first wristwatch to be awarded an independently ratified certificate of chronometric performance. (Present Day COSC "Contrôle Officiel Suisse des Chronomètres")
In 1931, the world witnessed the debut of the iconic Rolex Oyster Perpetual model.
In 1933, as part of the Houston Expedition, a Rolex Air-King flew over Mt. Everest at an altitude exceeding 33,000 feet.
In 1953, the Rolex Explorer was added to the collection after Sir Edmund Hillary and Tenzing Norgay wore a Rolex on the first successful summit of Mt. Everest.
In 1963, Rolex launched the iconic Cosmograph Daytona.
Fast forward to 2020, Rolex has produced countless watches over its long history geared towards specific types of customers. There are currently 24 different collections available in the Rolex catalogue, including the Submariner, Day-Date President, Cosmograph Daytona, Yacht-Master, GMT-Master II, and Explorer II.
Facts about Rolex
While other luxury watchmakers use 316L stainless steel, Rolex's stainless steel watches are made with 904L steel, a more expensive alternative to the 316L steel. Although it is more expensive and complicated to machine, 904L steel is known to be more corrosion resistant and harder than 316L.
Rolex has its own internal Research & Development departments that cover every single process of manufacturing Rolex watches, from developing lubricants to stress testing the watch. All Rolex Oyster case watches are thoroughly tested for water resistance in an air-pressure tank. Rolex produces its own cases, bracelets, dials, bezels, and movements in-house with incredible efficiency and quality.
Rolex has the biggest production number as compared to its competitors and many assume that Rolex "mass produce" their watch with machines. Although Rolex does use machines during the manufacturing process, Rolex watches are given the hands-on human attention expected from a luxury Swiss watch. After all, Rolex is obsessed with quality control.
*Fun fact: On average, each Rolex watch takes 1 year to produce.
Rolex has an in-house foundry to make all of the gold and platinum to ensure the highest quality. Here's the list of precious metals used by Rolex:
– Everose Gold 18k
– Yellow Gold 18k
– White Gold 18k
– Platinum 950
– Rolesor (Two-tone: Steel and Gold)
Watches are not an investment but a Rolex may just be one of the few luxury items that will retain its value or even appreciate over time. In the vintage market, Rolex is the hottest brand after Patek Philippe. I'm not saying that a Submariner today can fetch you the same amount as the Paul Newman Daytona in the future, but you know you've made a wise decision when you purchase a Rolex.


Rolex Iconic Bracelets:
– Jubilee Bracelet
– Oyster Bracelet
– President Bracelet
– Oysterflex Rubber Bracelet

BROWSE THE ROLEX COLLECTION ON WATCHLINK.SG
Popular Rolex Model
Submariner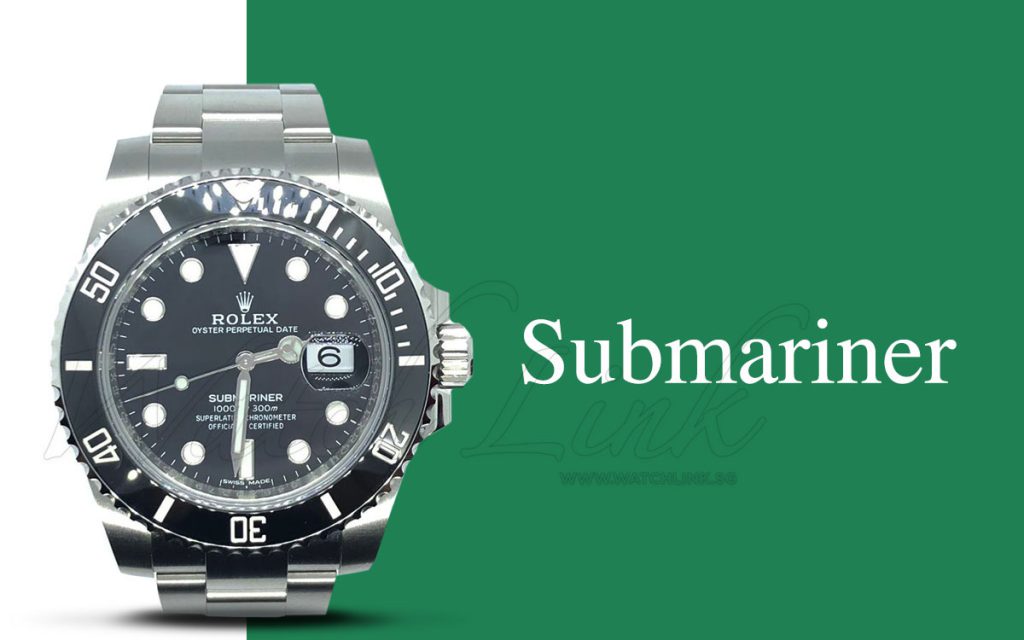 What is the best watch to start with? What is the most important watch of all time? The answer is probably the iconic Rolex Submariner. Introduced in 1953, the Rolex Submariner has in many ways defined the entire luxury sports watch category. At 40mm, the Submariner is a genre-defining, proven-to-work watch used by James Bond, celebrities and real-life divers alike.
There are well over a dozen distinct references of the Submariner, with up to a few hundred total variants for the past few decades. Other than the standard "Black Sub", some of the popular Rolex models are the yellow gold with blue dial, "Hulk", "Kermit" and even some with custom diamond bezel.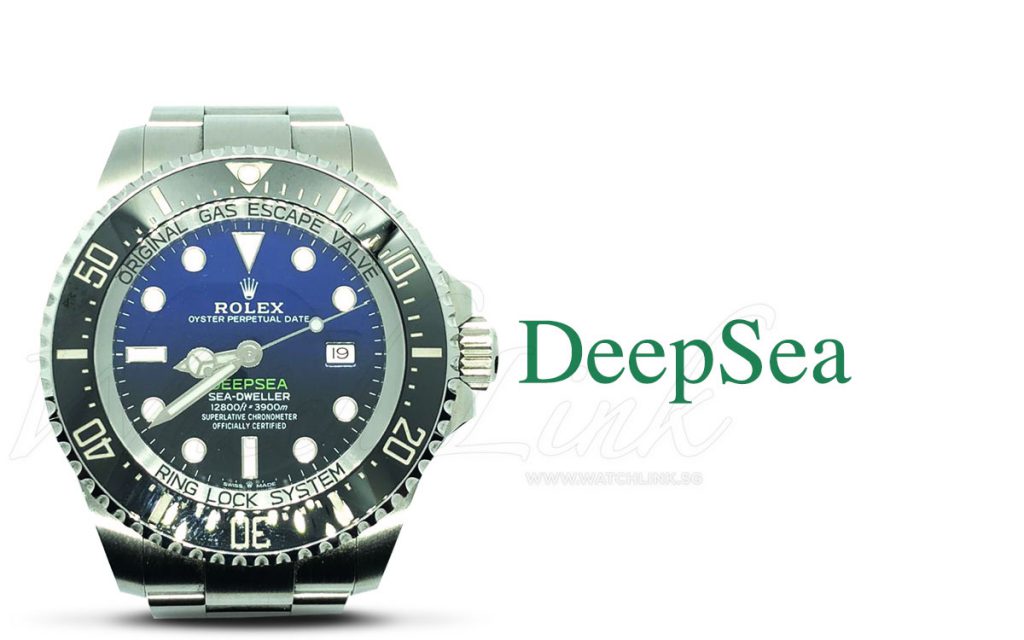 If you are looking for a Rolex dive watch with larger case size and more water resistance, you can look at some of the Sea-Dweller or DeepSea models.
Daytona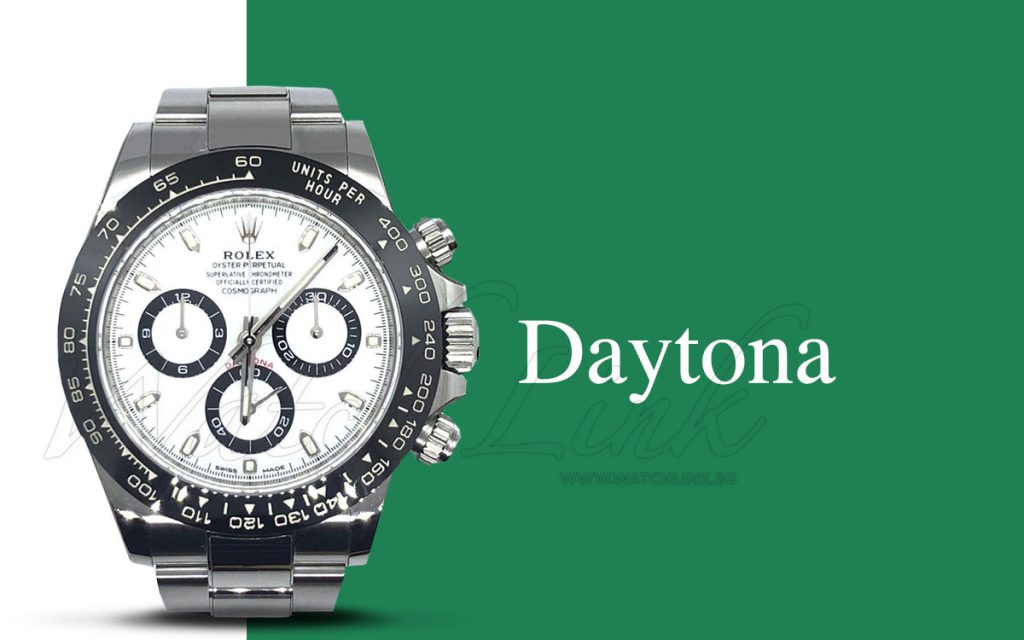 "The most iconic chronograph in the world." Since 1955, 12 years before Rolex officially named their chronograph, "Daytona", we've witnessed many different variations and tremendous technical evolution. The longevity of the Daytona is what distinguishes it as a true classic. As one of the most sought-after Rolex models, do expect a waiting period of up to 6-10 years to purchase one from an Authorised Dealer. Be it vintage or modern Daytona, you know you have something special on your wrist. Some of the most iconic modern Daytonas are the Ceramic "Panda", Ceramic Black Dial, Rose Gold and Yellow Gold.
GMT-Master II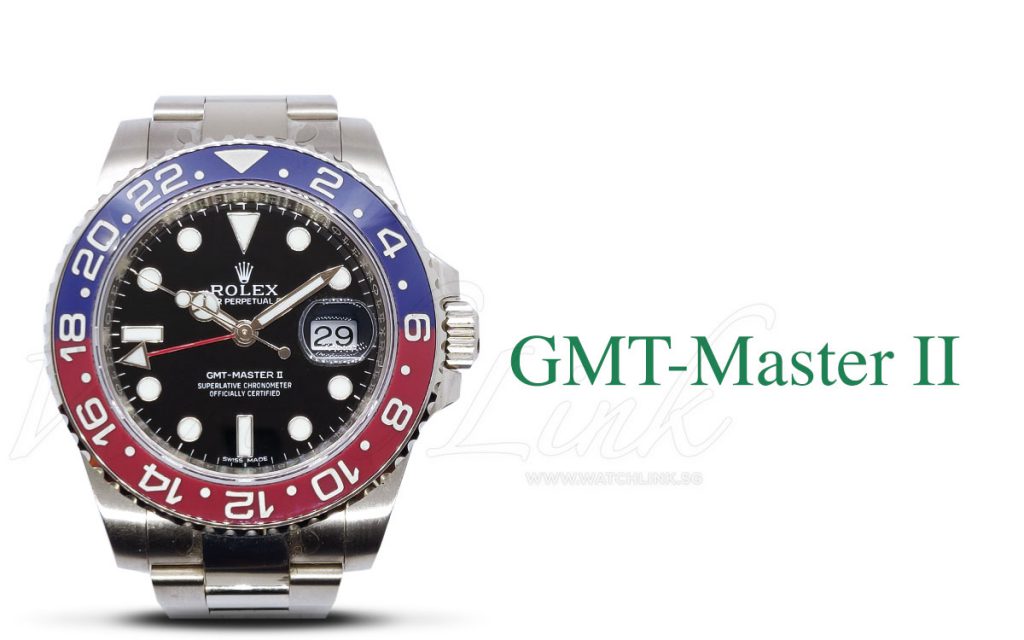 Requested by the Pan American World Airways for its pilots, the GMT-Master tells time for two time zones at once. The current collection of GMT-Master II accounts for some of the most sought-after watches. The Rolex GMT-Master is indeed the most famous travel watch ever. At a perfect size of 40mm, the GMT-Master II is equipped with an hour, 24 hour and minute hand together with an adjustable ceramic bezel. Some of the popular variants are the "Pepsi", "Batman" and the "Root Beer".
Sky-Dweller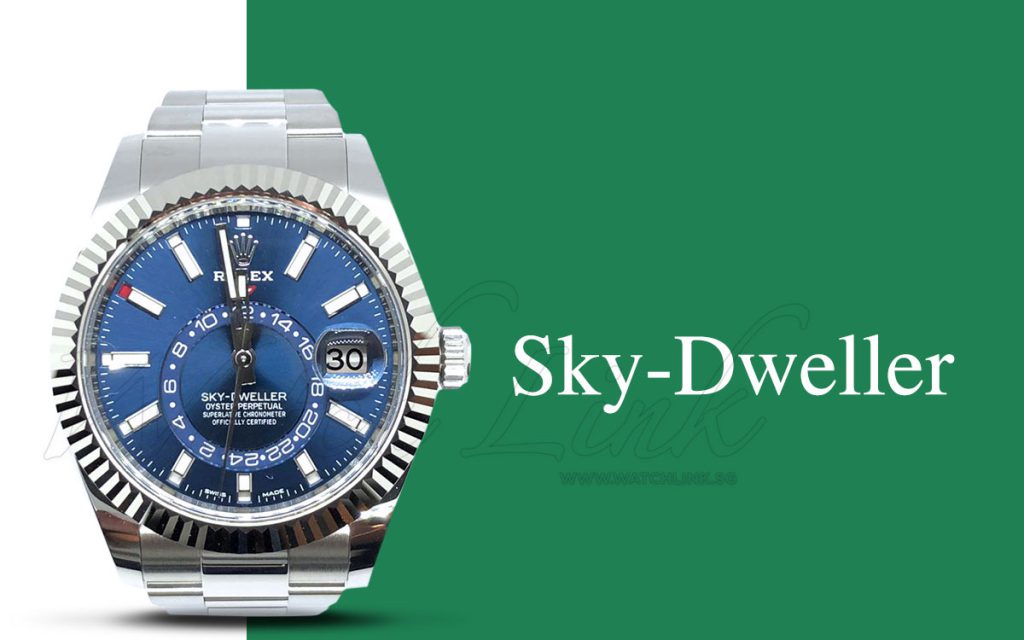 Introduced in 2012, the 42mm Sky-Dweller is the youngest and most complicated Rolex to date. It is an extremely practical watch with two complications: a dual-time zone and an annual calendar. First found on the Yachtmaster II, the Ring Command Bezel on the Sky-Dweller's fluted bezel allows the annual calendar and dual time zone to be set at once. Popular variants of the Sky-Dweller are the Stainless Steel with Blue Dial and Rose Gold.
DateJust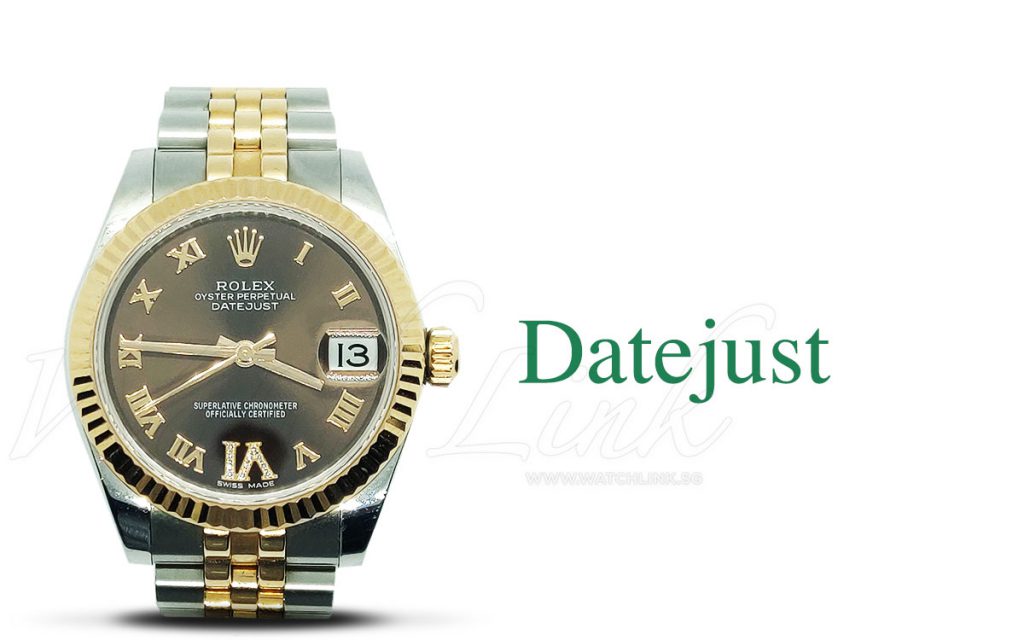 You can never go wrong with the classic, like a Porsche 911. The Datejust is the quintessential Rolex dress watch with the same technology found in the Oyster Perpetual. Available in almost every single case metal, size, bezel, bracelet and dial variations you can imagine, the Datejust may just be the perfect classy yet sporty watch for you.
Yacht-Master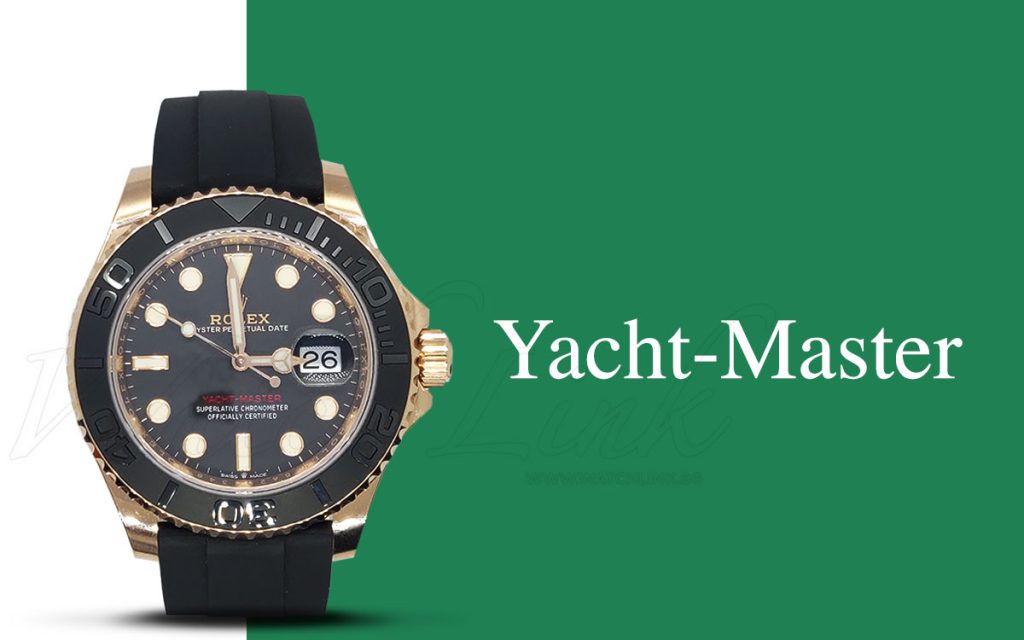 The Yacht-Master collection consists of the standard Yacht-Master (37mm, 40mm, and 42mm) and the Yacht-Master II (44mm with a regatta timer complication). The Yacht-Master introduced in 1992 is known to be the "luxury" version of the Rolex Submariner, usually cased in precious metals instead of stainless steel. The Yacht-Master II was the most complicated Rolex model before the debut of the Sky-Dweller. Popular Yacht-Master variants are the Rose Gold and White Gold 42mm, and the Yacht-Master II 44mm.
Why do you need a Rolex?
Because you can't deny the communicative power a Rolex watch has when expressing your status, wealth, and taste. You want to celebrate an achievement, to own a luxury accessory that holds its value, to portray a level of success, to own a luxury watch with a rich history and many other reasons you can think of. With a price range from a few thousand to hundreds of thousands, there will always be a Rolex model that fits your budget.
Rolex is a brand with a very high degree of consumer satisfaction, however, just like any other watch, the best results come from purchasing a timepiece you would personally want to wear and enjoy.
BROWSE THE ROLEX COLLECTION ON WATCHLINK.SG
Looking for any specific Rolex model? Feel free to contact us or drop us an email at [email protected].