Despite being a small country, Singapore is one of the best places to trade pre-owned or unworn luxury watches. In this article, we will touch on the Singapore luxury watch market and where to buy/sell watches.
Singapore is one of the most popular countries for watch collectors to buy and sell watches due to the large horology community in the Lion city. Singapore is the 6th largest watch market in the world, and that is an impressive figure for a small country. This indicates a high volume of transactions and liquidity in the Singapore market. At a high US$64,581.94 GDP per capita, Singapore is one of the most knowledgeable, sophisticated watch markets in the world. With a high-income rate combined with a low tax regime, most Singapore consumers tend to spend their disposable income on luxury watches.
The secondary luxury watch marketplace proliferated throughout the years, with multiple channels of distributions and sales in Singapore. However, issues like the authenticity of watch as well as trust between seller and buyer remains a huge issue. Consumers want to feel comfortable with their purchase, especially for a high ticket item like luxury watches. Therefore, luxury watch boutiques like Watch Link are often patronised by luxury watch consumers.
Despite the growth of e-commerce in recent years, consumers still favour retail experience over purchasing expensive goods online. After all, the overall purchasing journey and excellent customer service are as important as the product itself. You wouldn't really want to purchase a $100,000 Patek Philippe or a $20,000 Rolex online without physically feeling the watch first right? You would love to have an experienced horologist to guide you through your purchase and answer your queries on the spot right?
If so, Watch Link will be the ideal place for you to feast your watch cravings!
About Watch Link
Watch Link is a recognised and reputable luxury watch boutique based in Singapore. We are located in Far East Plaza, near the prime shopping district, Orchard Road.
With more than 20 years of experience in the luxury watch industry, Watch Link was founded by Sam Cheng who transformed his passion for watches into an established business.
Watch Link offers both modern and vintage timepieces to our esteemed clients. With a variety of unworn or pre-owned watches available from more than 50 brands, including Rolex, Patek Philippe, Audemars Piguet and Richard Mille, there's no better place to find a luxury timepiece.
Watch collectors are discerning shoppers who deserve nothing but the best. Our clientele comes from all walks of life and we pride ourself on our excellent customer service, which is an important part of the business. As the leader in the Singapore luxury watch market, we work closely with our clients to ensure that they get the most value when selling watches, while providing an expertly curated selection for purchase at the best price.
Our team consists of passionate watch enthusiasts with a superior level of knowledge and experience in the high-end watch market. With 2 decades of experience, there's nowhere else that is as well qualified as Watch Link for you to purchase your next luxury timepiece. Let us help you find the watch that's just right for you!
Watch Link provides an integrated platform that enables a frictionless watch collecting journey for our clients. Other than offering a variety of watches for purchase, our clients will also be able to sell, consign or trade their personal watches with us!
Our Services
Sell
Wondering where you can sell your luxury watch in Singapore? Watch Link is the answer! Selling your watch to Watch Link is simple and straightforward. Our team of qualified specialists has the necessary knowledge and expertise to understand the true market value of your timepiece. We offer highly competitive quotes in Singapore, as well as a quick and hassle-free service. Upon confirmation of sale, the seller will receive an upfront payment. If you are looking to sell your watches such as Rolex, Patek Philippe or Richard Mille for immediate cash, selling will be a great option for you. However, if you are looking to get the best value for your watch, you may wish to consider consigning with us!
Consignment
While the biggest perk of selling your watch directly is the ability to get paid without having to wait for it to be sold, we offer Consignment service for sellers as well! Consigning your watch offers more flexibility when it comes to pricing and our team of horologists will advise you on the best value for your timepiece. Sellers will not receive an upfront cash payment when they consign their watches at Watch Link until the watch is sold. Before consignment, we will discuss the pre-fixed amount with our client. After confirmation on the selling price, we will be promoting the watches on various channels such as our website, social media as well as our exclusive buyer/seller WhatsApp group. We recommend the consignment period to be at least 30 days as it is the ideal turnover duration. We offer consignment for different brands such as IWC, Omega, Tudor, Audemars Piguet and Panerai.
Watch Link Membership
We value all of our clients and would love to maintain a lifetime relationship. Our membership program allows our registered members to upload and manage their personal watch collection onto their profile. If our members wish to sell their watches, they can let us know on their profile and our team will be notified before contacting them shortly. To reward our loyal and esteemed customers, our clients will be upgraded to VIP membership after spending a certain amount with us. Our VIP will be entitled to rare and exclusive timepieces usually found in auctions only! Looking for rare Patek Phillippe Tiffany & Co or vintage Nautilus? Rainbow Daytona or Vintage Rolex? Highly sought after Richard Milles? You name it!
Ready to kick start your watch collecting journey with us? Register as a member today and contact us for the watch you desire!
About the Founder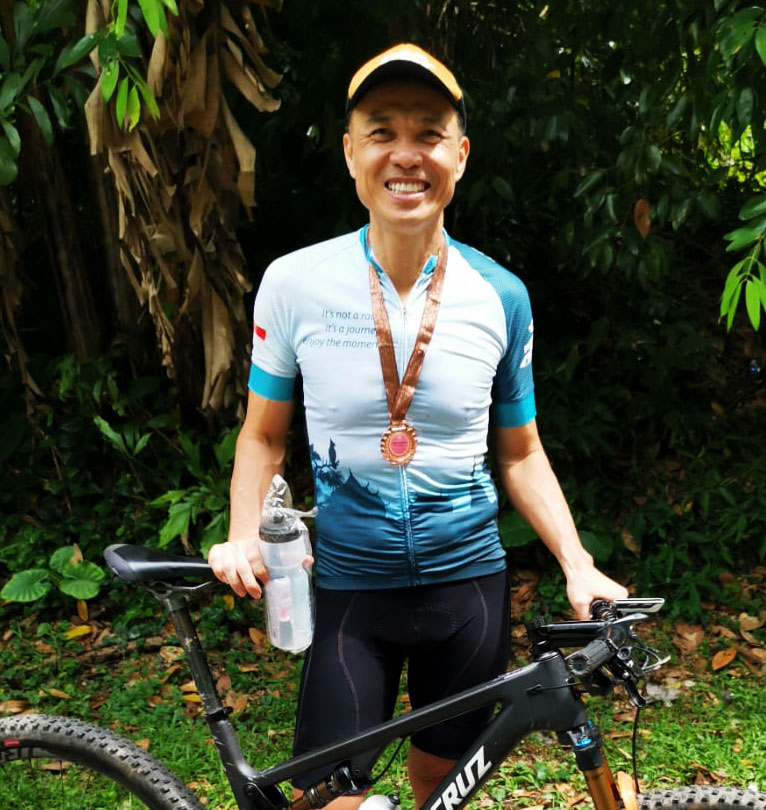 With more than a decade in the trade, Sam Cheng, founded Watch Link as a hobby – that's why he calls it his passion corner rather than a business. The 55-year-old says his best memories are meeting people from all walks of life – bankers, housing agents, hawkers and contractors.
What's the story behind Watchlink?
I've always been fascinated with mechanical movements and this sparked the interest in watches. I started collecting them around 1997 and along the way, I've met countless like-minded watch fans. One day it hit me, why not bring this hobby further? I then made the decision to transform this into a business and Watchlink was officially born in 2009.
What was your journey like before you started Watchlink?
My previous business, Hobbylink, was built upon my love for radio control cars. My journey started when I won the first national radio control racing championships back in 1983. Since then, I've travelled around the world for competitions. It was from these travels that I've widened my horizons and connected with people of high stature and from reputable backgrounds. There was one common trend amongst them – the love for delicate mechanics and hence, watches. This was how I discovered the opportunity for a watch business.
Tell us more about the beginning days.
It was not all a bed of roses. Capital was the first obstacle because of the costs of these high-end timepieces. There were also huge risks involved in the purchase of second hand watches due to authenticity issues. One mistake could easily cost me tens of thousands of dollars. But I decided that life is too short for regrets, so I went ahead to get a bank loan and there was no turning back!

I started from ground zero. I didn't have much education, but that didn't hinder me from learning. I learnt and did everything on my own – from building up the website, taking photos of the watches and managing the store. My hunger to learn also drove me to seek out professionals in the industry to pick up knowledge and skills on determining the quality and rarity of different types and brands of timepieces. I've never stopped learning since then.
What do you love the most about this passion corner?
Meeting people from all over the globe. I've had the honour of hosting renowned individuals from as far as USA and Europe who have specially made the trip down to visit my humble store. Some of these people are dealers themselves or even big shots from international shops. To me, these friendships are extremely valuable.
Where do you see Watchlink in the next 5-10 years?
The past decade saw exponential growth in the customer base. But this is only the beginning. I envision a greater expansion in the next decade with a strategic rebranding of the business and a widening portfolio of timepieces. Amidst the ambitious plans, I believe in staying true to the basics, and that is to focus on building strong customer relationships – always people before money.
Which is your personal favourite timepiece?
Definitely Panerai. This was one of the first brands I brought in to Watch Link. It may not be as popular now as it used to be back in the days, but it holds special meaning to me because of the good days and memories. Click here to find out more about Panerai.
What is the one ultimate life advice you'll give to others?
Put your pride and ego in your pocket. Never stop learning from others and offering your help no matter how small your contribution may be. The way to go far is to always put people first and build connections wherever you go. You never know, you may need the help of the roadside cleaner someday.