In a world full of Rolex Daytonas, it takes something special to stand out.
Rolex is typically known as a pretty conservative company. But Rolex's famous stella dials, their recent release of the "Power Ranger" Oyster Perpetual in various vibrant colours, and this set of limited production Beach Daytonas proves that their designers certainly have a flair for the dramatic.
"The best colour in the whole world is the one that looks good on you." – Coco Chanel
Following the release of the Beach Daytona collection, the Rolex Daytona is not only known as a masculine steel sports watch but also as a colourful fashion statement watch expressing exuberant enjoyment of life.
With colour, one obtains an energy that seems to stem from witchcraft. There's a reason we don't see the world in black and white.
The beginning of the 116520
Before the Cosmograph and Daytona models, Rolex had produced chronographs since the 1930s, setting the mold for what would ultimately become the single best-known chronograph in the world. These early watches, like many chronographs of the period, had monochromatic dials and a tachymeter ring printed on the outer edge of the dial.
Before the 6 series Daytonas were release in 2000, Rolex used Zenith based 4030 movements for the 5 digit references and Valjoux movement for the 4 digit references. After decades years of R&D, the movement used in the Reference 116520–the Calibre 4130–was the Rolex's first new in-house chronograph calibre found in a Daytona and it is still used in current production.
The Calibre 4130's construction consists of a vertical clutch chronograph, a larger balance wheel, and fewer screws, making it far more accurate and serviceable than any of Rolex's previous self-winding chronograph calibres.
In the early 2000s, since the introduction of 116520 steel Daytonas with black and white dials, Rolex introduced a quartet of 18k white gold ref. 116519 P series Daytonas with colourful dials made with different stones.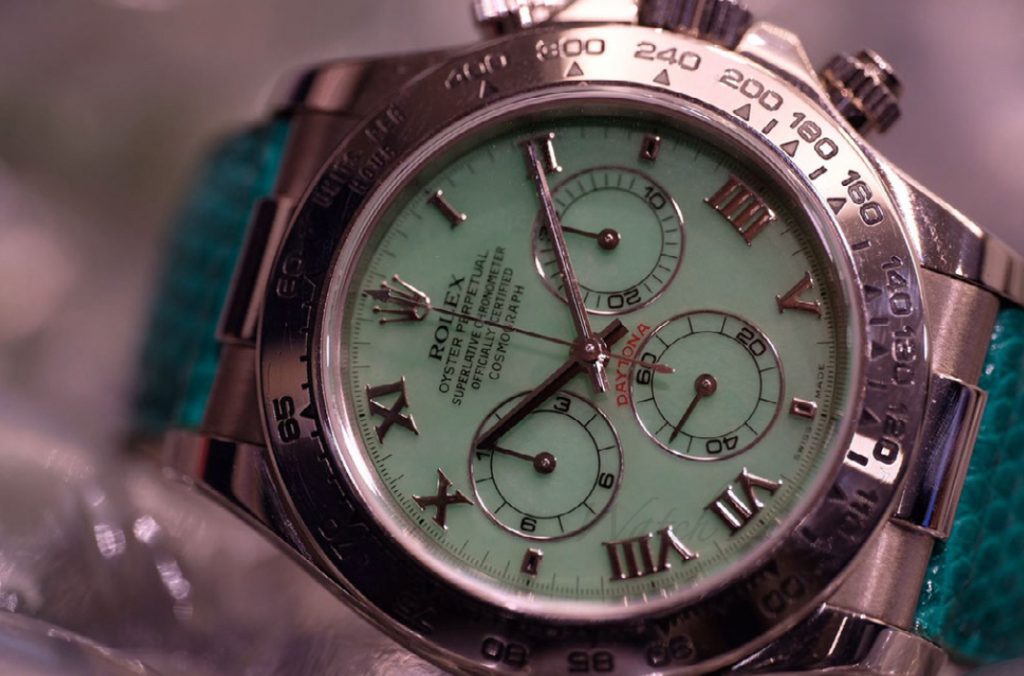 If there is a Rolex collection meant for spring/summer, this set of coloured dial Daytonas will be the top contender. Due to the popping blue, green, yellow, and pink dials, the nickname 'Beach Daytonas' is coined by collectors.
Taking a Stroll on the Rolex Daytona "Beach"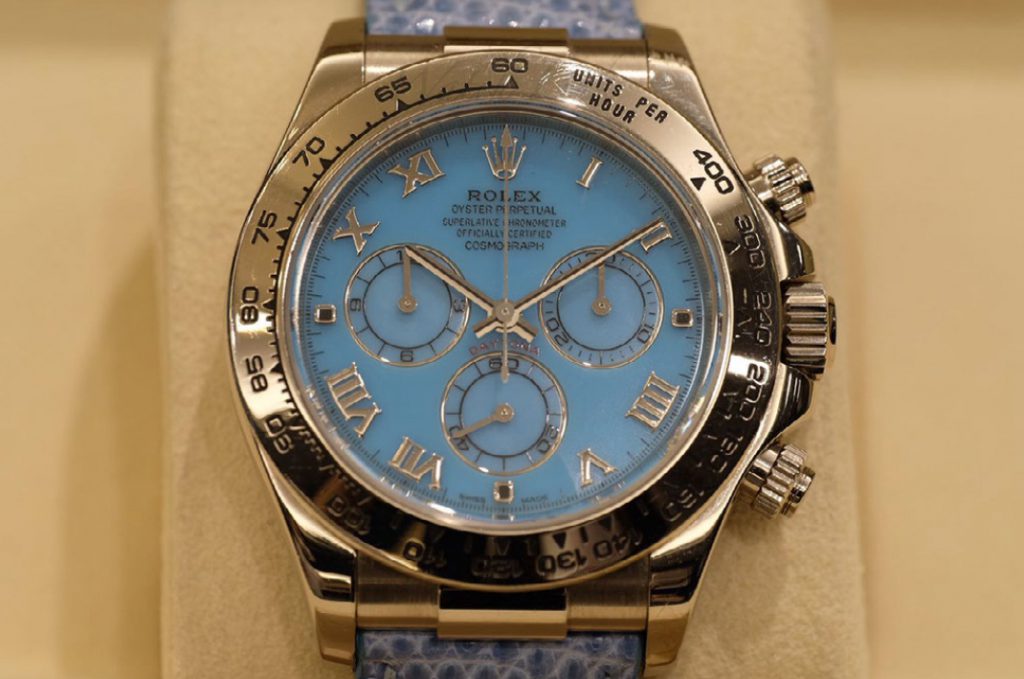 It may bear more than a passing resemblance to the flagship Rolex Steel Daytonas on the surface, but the Reference 116519 'P' Series is so much more. It represents a whimsical and luxury-forward spin on the classic Daytona's formula.
Featuring a solid 18k white gold case and an unbelievable dial manufactured in some of the rarest gemstones, the Beach Collection is a limited-production timepiece that pays homage to Rolex's earlier forays into exotic dial materials, most notably the "Stella" dial on Day-Dates in 1956.
The 4 watches in the Beach collection are fitted with different hard stone dials – yellow mother of pearl, green chalcedony, pink mother of pearl and turquoise MOP. Given the recent hype in Daytonas, the vibrant collection has now become a rare collector's watch, especially if you have all four specimens with original boxes and papers. All four Daytonas come fitted to its factory lizard strap in matching colours of the dial, and white gold deployant buckle.
It is very rare to find a complete set of four and are complete with all accessories including original guarantees and the matching colour presentation boxes.
A number of details give these special dials a ton of depth. Just look at those magnificent recessed sub-dials, an incredible feat of precision engineering given the brittleness of natural stones. On the hour markers we find applied 18k white gold Arabic numerals that match well with the white gold stick hands. A pop of contrasting colour is introduced by the placement of the word "DAYTONA" in red text.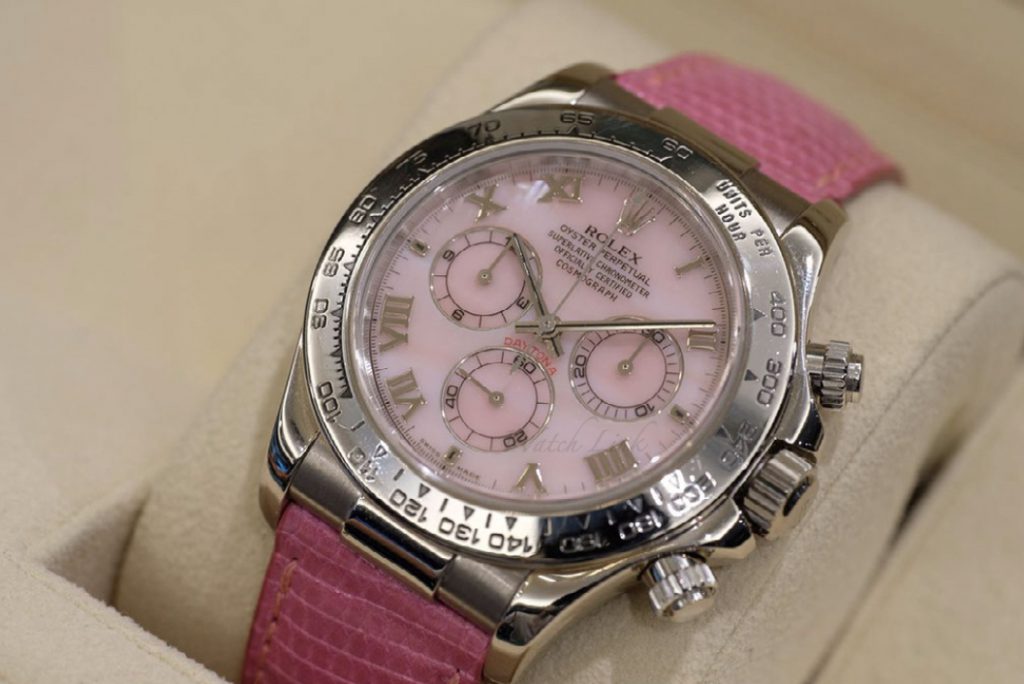 No, the Rolex Daytona "Beach" won't be for everyone. That's kind of the point. It is not your run off the mill Daytonas. It takes a certain personality and mood of the day to accommodate the watch, but you are sure to have something special on your wrist.
Some might argue that the vibrant colours make the Beach collection a "Ladies" watch. It's 2021. We live in a day and age that it's okay for males to pull off hot pink and baby blue.
Pink? Hell No!
Real men don't wear Pink!
Time for a reality check.
Pink has made a comeback in men's style and fashion.
Whatever point of view about pink being feminine, it's dying away.
Some fun fact beyond horology to prove my point. Research studies shows that women like men in pink simply because they're attracted to pink. But please don't deck out in pink from head to toe please.
Pink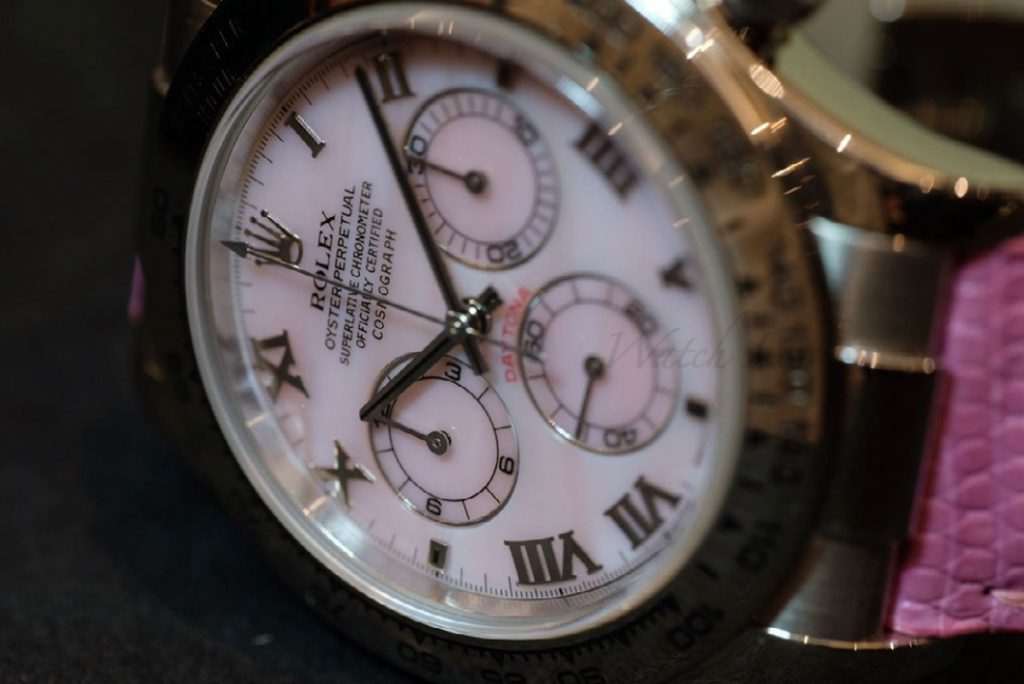 Since we are on the topic of pink, let's start with the pink variant, which happens to be my personal favourite, followed by the blue turquoise. I am usually not a fan of mother of pearl dials but gosh, this pink MOP is a beauty. The fact that the majority of my friends voted this as their favourite speaks volumes of how alluring it is.
Green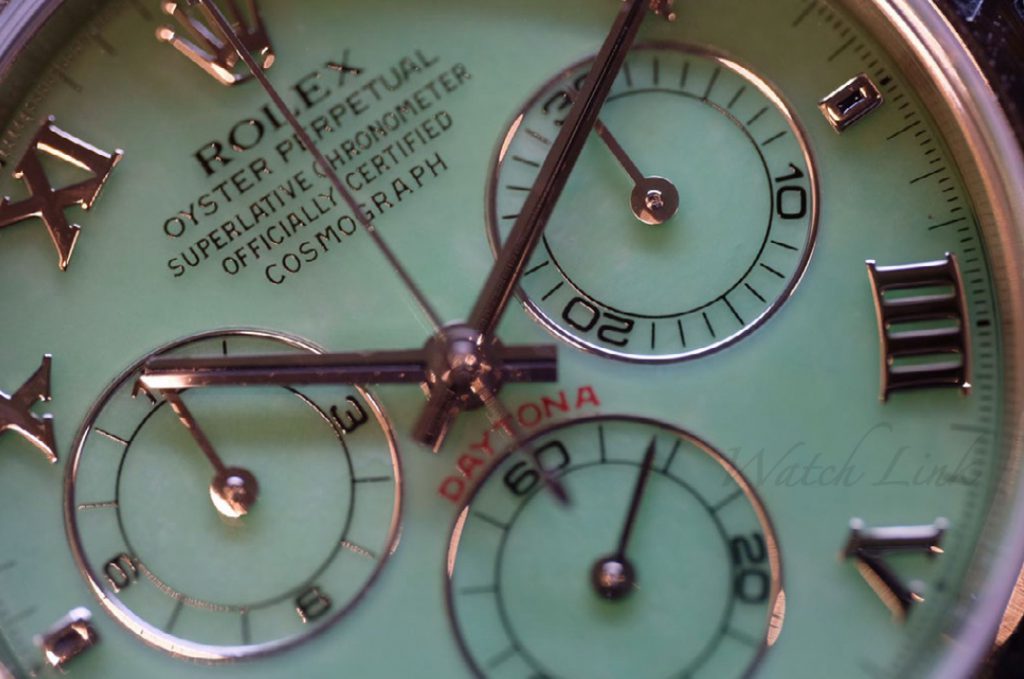 Instead of mother of pearl, like the other three in the collection, this lovely Green Beach features a dial made from chrysoprase, a gemstone variety of chalcedony that can range from different shades of green color. The name chrysoprase is derived from Greek and translates roughly to "golden apple", so it is not surprisingly that you find the green apple hue in this dial.
Blue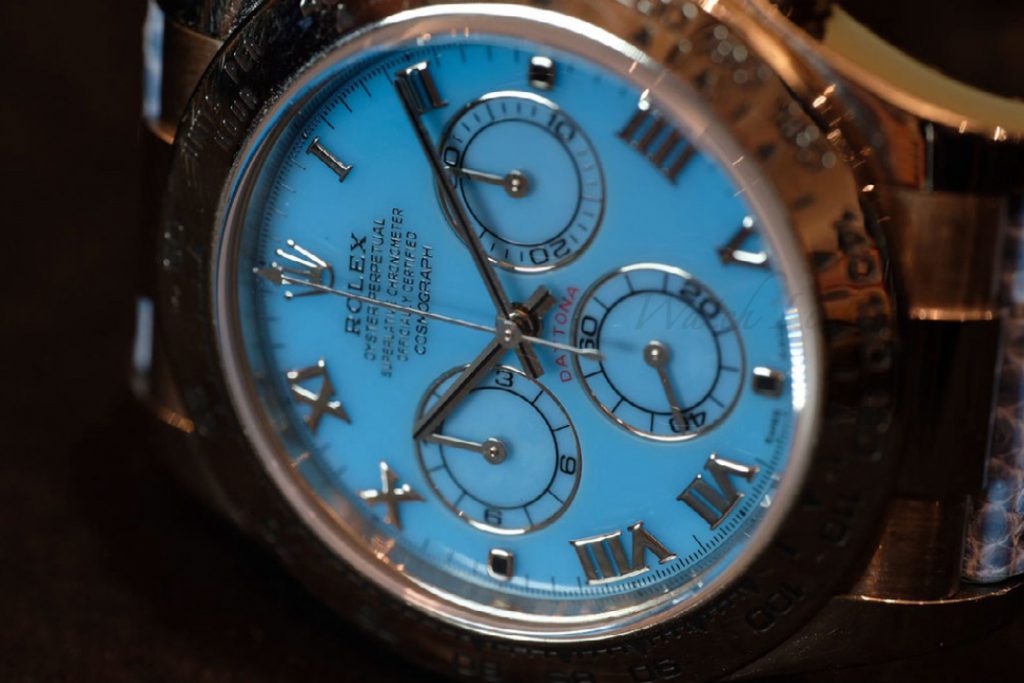 Probably the most popular dial among the rest, it comes as no surprise as turquoise dials for Rolex models is often well-loved by collectors. One relative example, the ref 16516 in a platinum case and the turquoise dial is sold for over US1M at an auction house. In terms of aesthetic difference, the 116519 has Roman numerals instead of Arabic numerals.
Yellow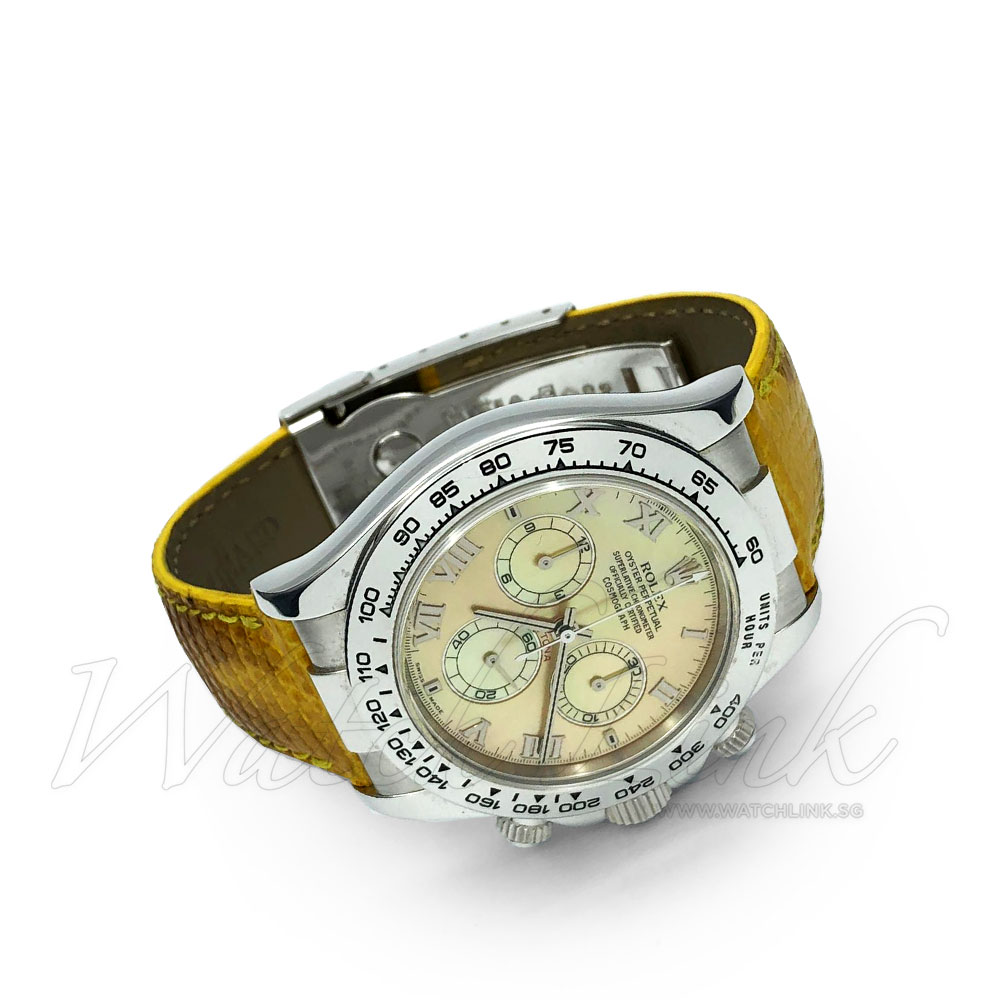 The yellow MOP version is probably the most fitting for the collection's nickname, "Beach" Daytona. Just like the rest of the mother of pearl dials, it is difficult to express the dial aesthetics on camera. From "Sandy Yellow" to "Bright Yellow" under different lightings, you have to see it in real life to fully appreciate this dashing work of art.
Final Thoughts
As a globally recognised luxury brand, Rolex sits above the watch industry. Omnipotent, omnipresent and more instantly recognisable than any other brand in the luxury watch market. Rolex permeates our culture, making it difficult to talk about luxury and prestige, without talking about Rolex.
Rolex is commonly associated with rugged, utilitarian sports watches. It is Rolex's no fuss and no thrills approach to watchmaking that has partially contributed to its everlasting success. However, once in a blue moon, they love to release new products that will surprise many.
Introducing a series of whimsical, playful colours into their iconic Daytona line is somewhat unprecedented, but commercially successful.
With demand for Daytonas in all metal growing exponentially, it will not be surprising to see the Beach Daytonas becoming one of the most collectable models, especially if it is a complete set of four with all original accessories.
Often seen within the watch collector community, the more collective knowledge is gained about a specific area, the more collectors will begin to appreciate it.
One such recent example is the hype and demand for watches with green dials in 2021. It will be easier to name a brand that released a novelty in green dial, than one that has not.
With the increased demand for the new OPs released in various vibrant colours, collectors are starting to seek similar design elements when acquiring their new timepieces. The Beach Daytonas 116519 'P' series will definitely not be overlooked in this territory.
Rolex is often be perceived as a serious brand and often used to signal prestigious status within a modern context, and that is exactly why this juxtaposition of the brand and bright colours is so appealing.
Will Rolex ever release a contemporary collection with coloured dials similar to the Beach collection? It will be interesting to see what they have to offer in the future. But right now, you can't find another Daytona that alludes to the Beach Daytonas.